These motivating goal setting quotes will inspire you to take action. They are all Instagram worthy and have been chosen as they get straight to the point.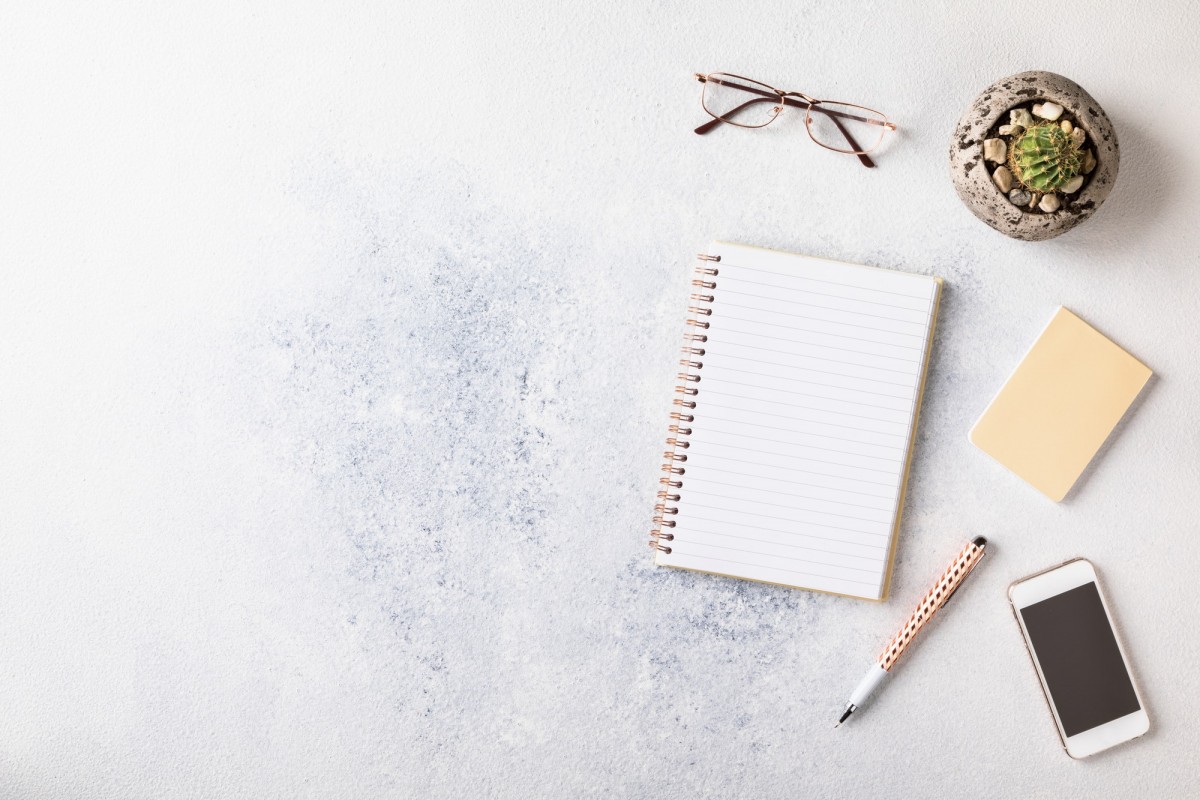 With the presence of social media, I guess you have noticed the trend wherein people pass around quotes for goal setting that are typed into photos of sceneries and famous personalities.
I'm saying this because for today's post, I'll be talking about these quotes that have been making rounds on the internet, and why I think you should be paying more attention to what they say.
How many times have you felt like running out of ideas that could potentially lead to your success?
Too often, we find ourselves preoccupied with redundant tasks that we fail to tap into our creative juices to try out new ventures.
This is why I wanted you to feel motivated by reading these quotes for goal setting.
Coming from people who once dreamed of the success they now enjoy, these sayings are proven to work well in inspiring you to take immediate action towards achieving your bigger dreams.
100 Most Motivating Goal Setting Quotes For Action Takers
1. "It's harder to stay on top than it is to make the climb. Continue to seek new goals." – Pat Summitt
2. "One way to keep momentum is to have constantly greater goals." – Michael Korda
3. "No one can get anywhere unless he knows where he wants to go and what he wants to be or do." – Norman Vincent Peale
4. "You can, you should, and if you're brave enough to start, you will." – Stephen King
5. "If you want to be happy, set a goal that commands your thoughts, liberates your energy, and inspires your hopes." – Andrew Carnegie
6. "A goal properly set is halfway reached." – Zig Ziglar
7. "You can't wait for inspiration. You have to go after it with a club." – Jack London
8. "Nothing is impossible; the word itself says "I'm possible"!" – Audrey Hepburn
9. "I think goals should never be easy; they should force you to work, even if they are uncomfortable at the time." – Michael Phelps
10. "You should set goals beyond your reach so you always have something to live for." – Ted Turner
11. "If you're going to be thinking, you may as well think big." – Donald Trump
12."The trouble with not having a goal is that you can spend your life running up and down the field and never score." – Bill Copeland
13. "If you're bored with life—you don't get up every morning with a burning desire to do things—you don't have enough goals." – Lou Holtz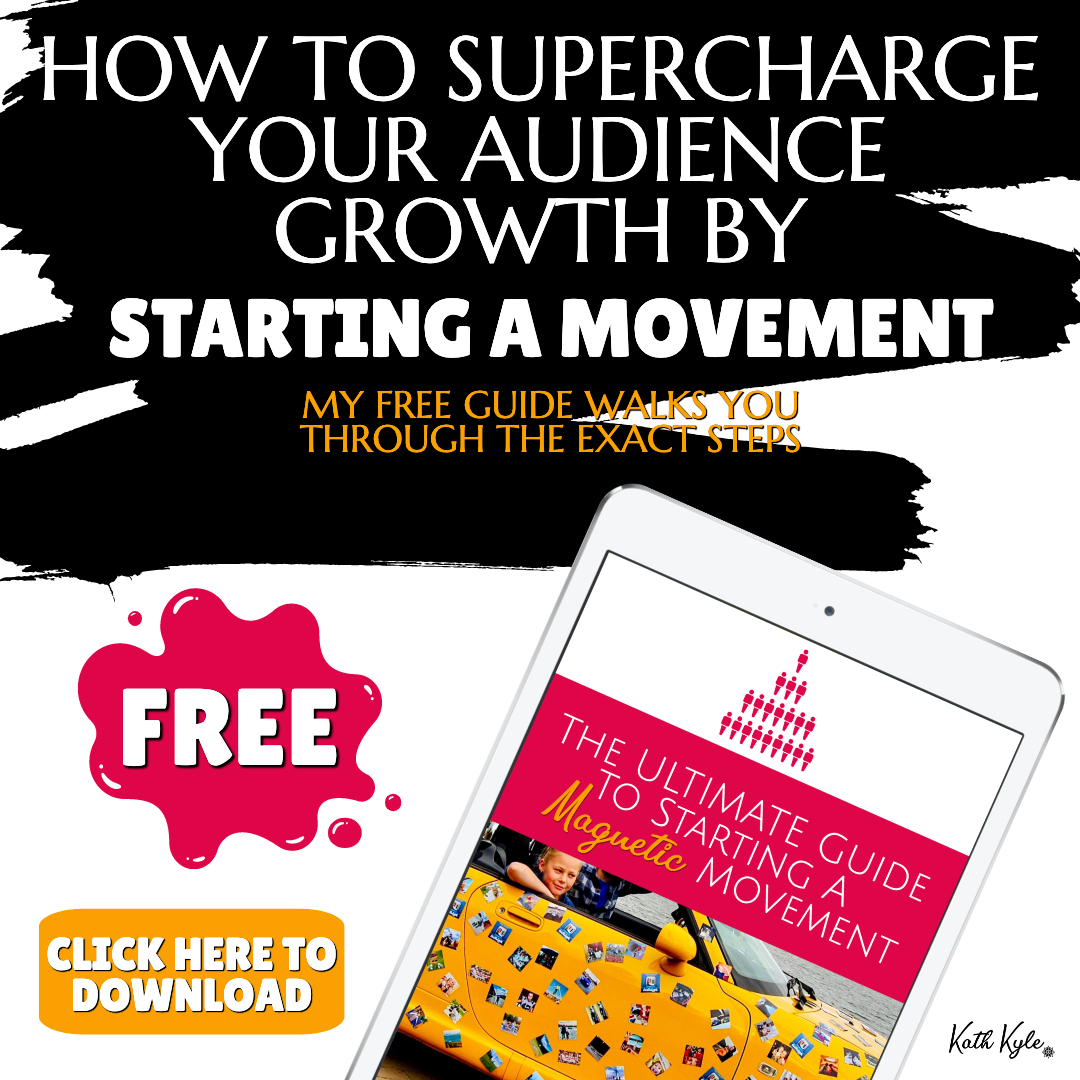 14. "Begin with the end in mind." – Stephen Covey
15. "Opportunity does not knock, it presents itself when you beat down the door." – Kyle Chandler
16. "The greater danger for most of us isn't that our aim is too high and miss it, but that it is too low and we reach it." – Michelangelo
17. "Many great ideas go unexecuted, and many great executioners are without ideas. One without the other is worthless." – Mario Cuomo
18. "Without ambition, one starts nothing. Without work, one finishes nothing. The prize will not be sent to you. You have to win it." – Ralph Waldo Emerson
19. "Reach high, for stars lie hidden in you. Dream deep, for every dream, precedes the goal." – Rabindranath Tagore
20. "Intention without action is an insult to those who expect the best from you." – Andy Andrews
21. "Setting goals is the first step in turning the invisible into the visible." – Tony Robbins
22. "Vision without action is daydream. Action without vision is nightmare." – Japanese Proverb
23. "The only way of discovering the limits of the possible is to venture a little way past them into the impossible." – Arthur C. Clarke
24. "Knowing is not enough; we must apply. Willing is not enough; we must do." – Johann Wolfgang von Goethe
25. "The significance of a man is not in what he attains but in what he longs to attain." – Kahlil Gibran
26. "We are all in the gutter, but some of us are looking at the stars." – Oscar Wilde
27. "Only he who attempts the absurd is capable of achieving the impossible." – Miguel de Unamuno
28. "The minute you settle for less than you deserve, you get even less than what you settled for." – Maureen Dowd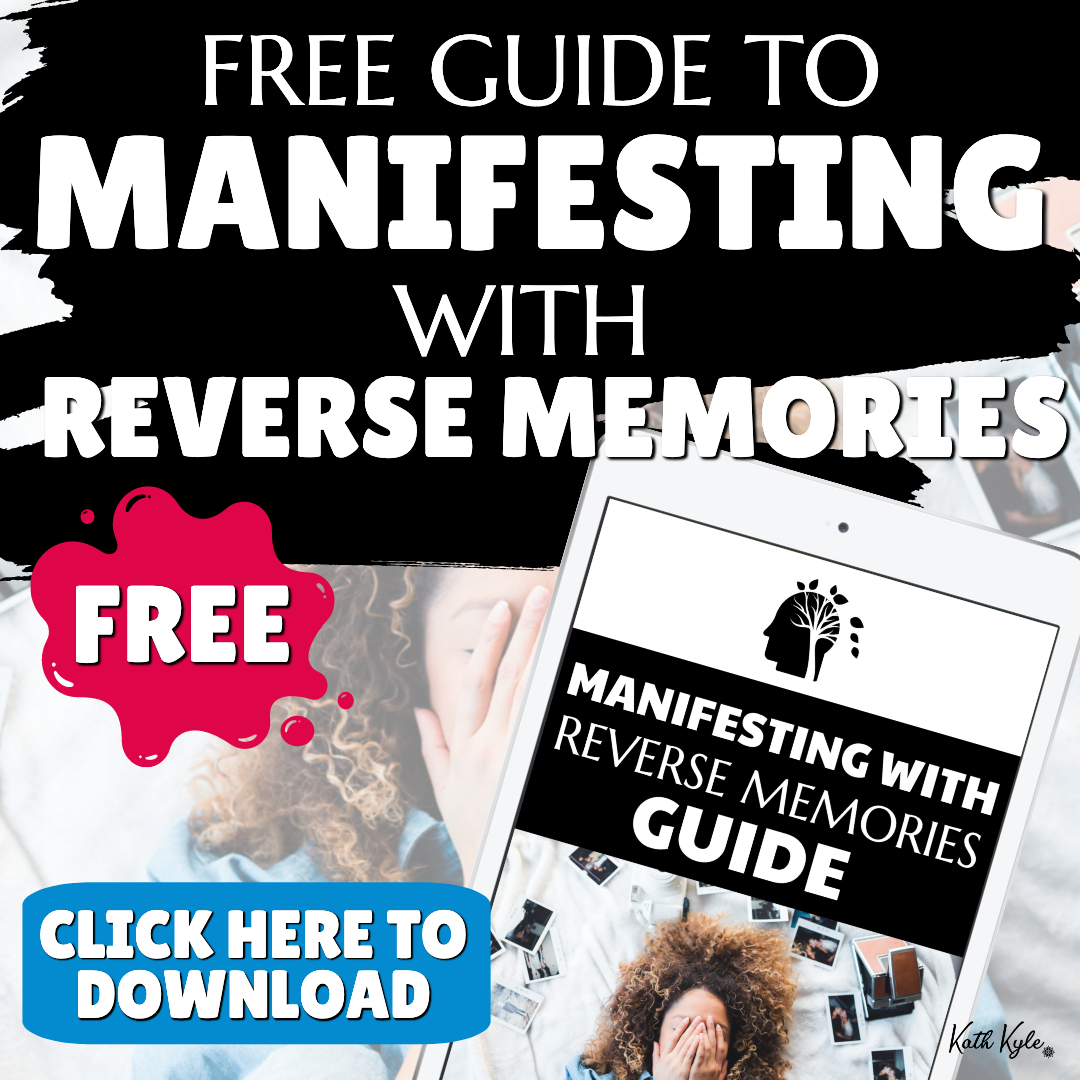 29. "People with goals succeed because they know where they're going." – Earl Nightingale
30. "If you don't design your own life plan, chances are you'll fall into someone else's plan. And guess what they have planned for you? Not much." – Jim Rohn
31. "Change the way you look at things and the things you look at change." – Wayne W. Dyer
32. "If you don't know where you are going, you might wind up someplace else." – Yogi Berra
33. "Talent hits a target no one else can hit. Genius hits a target no one else can see." – Arthur Schopenhauer
34. "You are never too old to set a new goal or to dream a new dream." – C.S. Lewis
35. "A good archer is known not by his arrows, but by his aim." – Thomas Fuller
36. "Don't bunt. Aim out of the ballpark." – David Ogilvy
37. "The people who are crazy enough to think they can change the world are the ones who do." – Steve Jobs
38. "A goal without a timeline is just a dream." – Robert Herjavec
39. "Goals help you channel your energy into action." – Les Brown
40. "To sit on an idea or fail to act on a goal is not really goal-setting, but wishful thinking." – Les Brown
41. "Goals are not only absolutely necessary to motivate us. They are essential to really keep us alive." – Robert Schuller
42. "It doesn't matter where you are coming from. All that matters is where you are going." – Brian Tracy
43. "Be practical and generous in your ideals." – Theodore Roosevelt
44. "Set a goal big enough that in the process of achieving it, you become someone worth becoming." – Jim Rohn
45. "A goal should scare you a little and excite you a lot." – Joe Vitale
46. "Envision, create, and believe in your own universe, and the universe will form around you." – Tony Hsieh
47. "If a man knows not to which port he sails, no wind is favorable." – Lucius Annaeus Seneca
48. "The world makes way for the man who knows where he is going." – Ralph Waldo Emerson
49. "The most important thing about goals is having one." –Geoffry Abert
50. "A goal is not always meant to be reached; it often serves simply as something to aim at." – Bruce Lee
51. "Goals determine what you're going to be." – Julius Erving
52. "A good goal is like a strenuous exercise—it makes you stretch." – Mary Kay Ash
53. "Imagination is more important than knowledge." – Albert Einstein
54. "Goals must never be from your ego, but problems that cry for a solution." – Robert Schuller
55. "Without some goals and some efforts to reach it, no man can live." – John Dewey
56. "Recast your current problems into proactive goals." – Suze Orman
57. "I set realistic goals consistent with my talents." – Judy Sheindlin
58. "Goals give you compass in order to direct your path through life." – Catherine Pulsifier
59. "Don't set time limits for achieving goals. They should transcend time." – Dan Pena
60. "Set realistic goals, keep re-evaluating, and be consistent." – Venus Williams
61. "All good performance starts with clear goals." – Ken Blanchard
62. "We all die. The goal isn't to live forever. The goal is to create something that will." – Chuck Palahniuk
63. "Goals give us purpose, which in turn, motivates us to make ourselves the best version in all aspects of your life." – Hannah Bronfman
64. "Set goals and seek challenges. Become a role model for those coming behind you." – Charles Bolden
65. "Vague goals produce vague results." – Jack Canfield
66. "Think little goals and expect little achievements. Think big goals and win big success." – David Joseph Schwartz
67. "Your goal should be just out of reach but not out of sight." – Denis Waitley
68. "People with clear, written goals, accomplish far more in a shorter period of time than people without them could ever imagine." – Brian Tracy
69. "People cannot hit what they do not aim for." – Roy Bennett
70.  "Aim higher in case you fall short." – Suzanne Collins
71. "When I was growing up, I always wanted to be someone. Now I realize I should have been more specific." – Lily Tomlin
72. "This one step—choosing a goal and sticking to it—changes everything." – Scott Reed
73. "Goals are the roadmaps that guide you to your destination." – Roy Benett
74. "What keeps me doing is goals." – Muhammad Ali
75. "The victory of success is half won when one gains the habit of setting and achieving goals." – Og Mandino
76. "Without goals, and plans to reach them, you are like a ship that has set sail with no destination." – Fitzhugh Dodson
77. "All who have accomplished great things have had a great aim, have fixed their gaze on a goal which was high, one which sometimes seemed impossible." – Orison Swett Marden
78. "Just pick a goal and stick to it—no big complicated secret." – Richelle Goodrich
79. "A goal without a plan is just a wish." – Antoine de Saint-Exupery
80. "By recording your dreams and goals on paper, you set in motion the process of becoming the person you most want to be." – Mark Victor Hansen
81. "Take time to deliberate, when the time for action comes, stop thinking and go in." – Napoleon Bonaparte
82. "Decide what you want, decide what you are willing to exchange for it. Establish your priorities and go to work." – H.L. Hunt
83. "No wishes are silly, no dreams remain dreams for those committed to clear and definitive goals." – Maximillian Degenerez
84. "Dreaming about being an actress is more exciting than being one." – Marilyn Monroe
85. "Whenever you want to achieve something, keep your eyes open, concentrate and make sure you know exactly what it is you want." – Paulo Coelho
86. "What the mind can conceive and believe, and the heart desire, you can achieve." – Norman Vincent Peale
87. "To dream of success is to set a goal of where you want to be." – Idowu Koyenikan
88. "Know what you want, work to get it, then value it when you have it." – Nora Roberts
89. "People are not lazy, they simply have impotent goals…that is, goals that do not inspire them." – Anthony Robbins
90. "Dare to dream! If you did not have the capability to make your wildest wishes come true, your mind would not have the capacity to conjure such ideas in the first place." – Anthon St. Maarten
91. "Know what you want to do, hold the thought firmly, and do every day what should be done, and every sunset will see you that much nearer the goal." – Elbert Hubbard
92. "An aim in life is the only fortune worth finding." – Robert Louis Stevenson
93. "If you don't have a well-thought out dream, you can start by figuring out where you want to go." – Kelly Crutone
94. "The very least you can do in your life is to figure out what you hope for. And the most you can do is live inside that hope." – Shannon Alder
95. "A clear purpose will unite you as you move forward. Values will guide your behavior, and goals will focus your energy." – Kenneth Blanchard
96. "Pursue your goals. Opinions be damned." – Stacy Verdick Case
97. "You have had a dream for so many years. Let today be the day you make a plan for it." – Steve Maraboli
98. "If you don't take the time to get really clear about exactly what it is you're trying to accomplish, then you're forever doomed to spend your life achieving the goals of those who do." – Steve Pavlina
99. "Write down ten things you would do in your life if you had absolutely no fear. Then pick one of them and do it." – Steve Chandler
100. "A man has to have goals—for a day, for a lifetime. And that was mine, to have people say, 'There goes Ted Williams, the greatest hitter who ever lived.'" – Ted Williams
Next Steps
Now that you've got everything you need to get your mind in the right place for success with your goals, you might be looking for the right tools to set your goals and actually achieve them? I have a free gift for you that you're going to love.  For a limited time, I am giving away the planner that I use to set goals for my six-figure blog.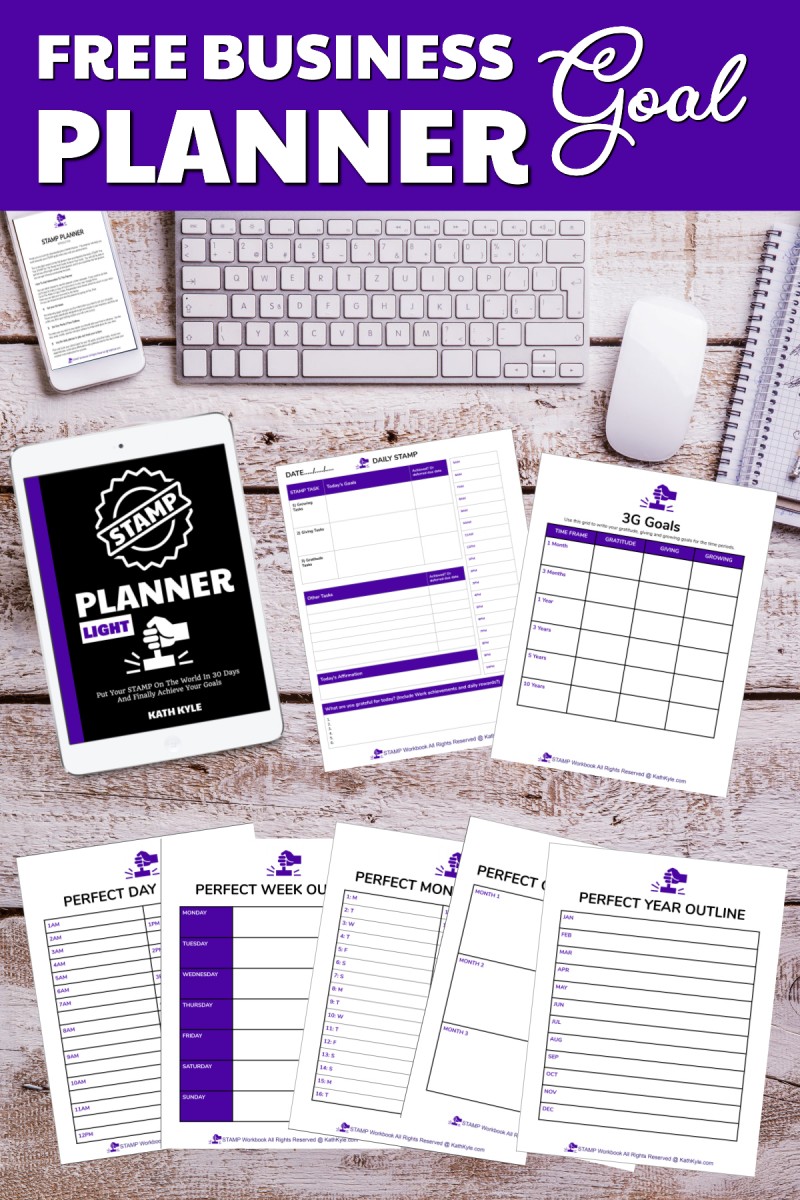 Click here to get your free business goal planner.
Conclusion
Quotes for goal setting may be clichéd, but there is something you can get out of them and that is inspiration.
They will inspire you to formulate new ideas and waste no time working on them.
Similarly, they hold the power to convince you that you can start anything if you simply put your will in it.
So the next time you come across a series of goal setting quotes, take the time to absorb its wisdom and soon you'll be breezing through your goals one after another.
Goal setting is a massive passion of mine, and I have many more posts and videos to help you reach your goals so stick around and see what else I can help you with by checking out the links below.
Sources
Related Resources You Will Love
.
TAKE YOUR MANIFESTATION TO THE NEXT LEVEL
Products
✔️
MANIFEST YOUR PERFECT DAY COURSE
: Manifest the life of your dreams and live your perfect day every single day.
Click here for access.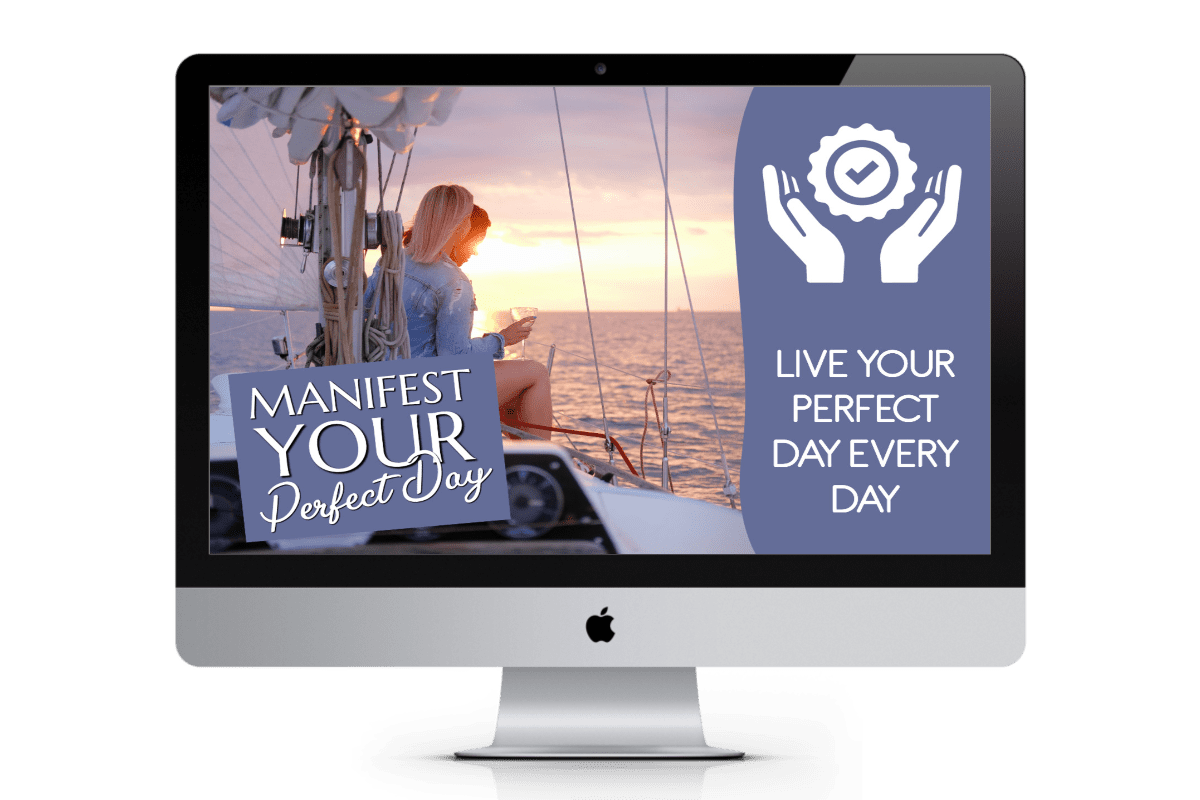 ✔️
BUSINESS MANIFESTATION CLUB
: Manifest a MASSIVE, engaged, and positive FOLLOWING, and MANIFEST the MONEY you desire using never-seen-before manifestation techniques that will transform your results in both your work and your life as a whole.
Get a FREE 7 day trial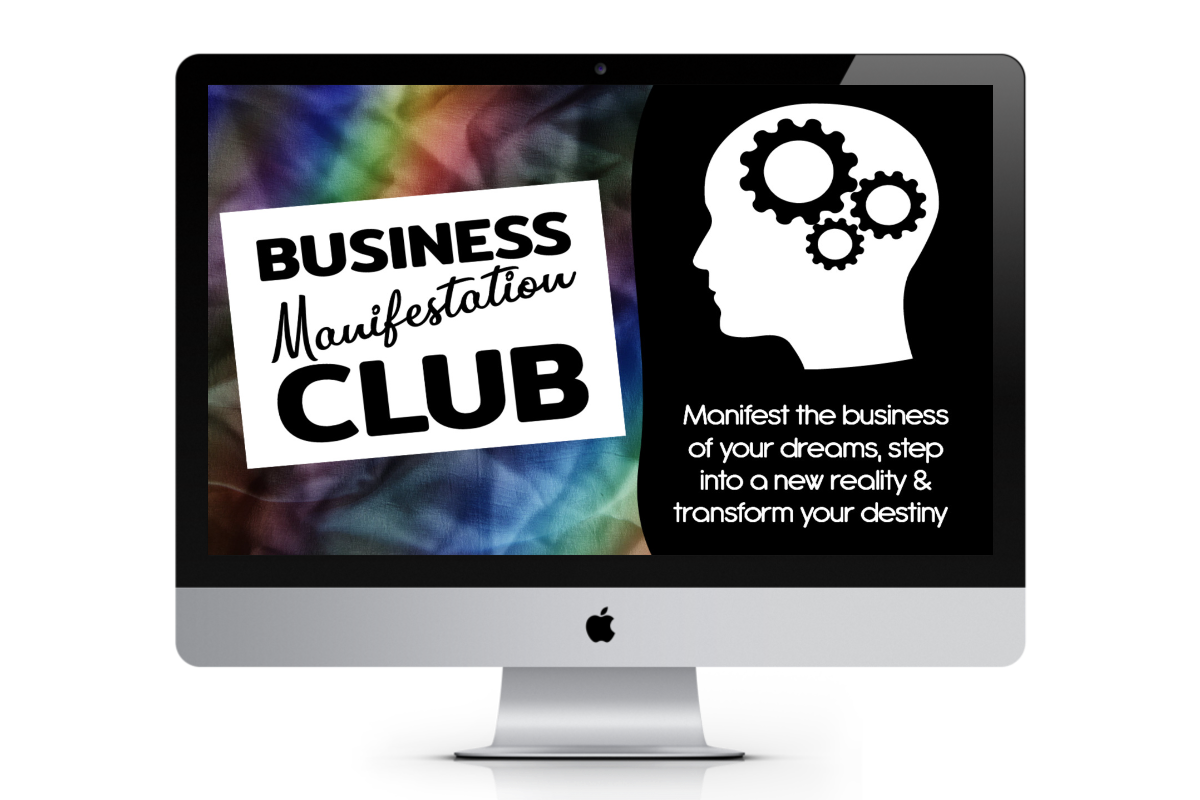 ✔️
DREAM BUSINESS MASTERY
: Get access to ALL of my current and future products. This is my entire system to take you from your current reality to business mastery.
Learn more by clicking here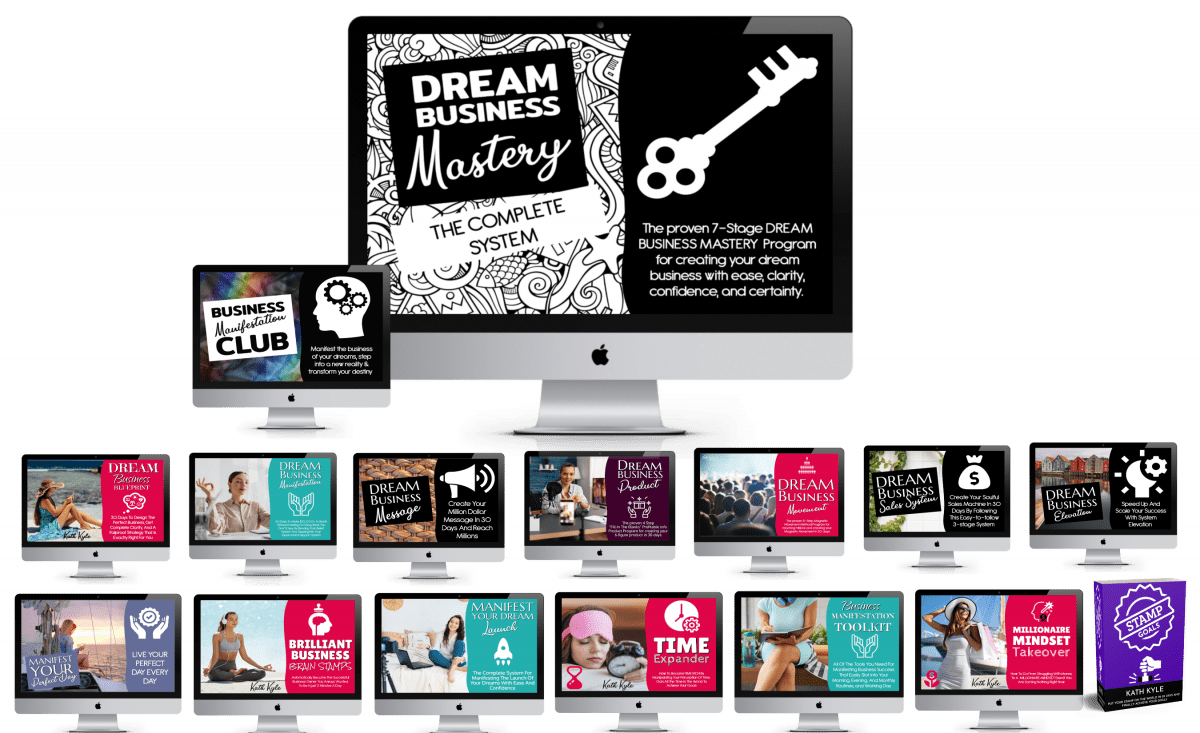 ✔️
STAMP GOALS BOOK
: Put Your STAMP On The World In 30 Days And Finally Achieve Your Goals.
Grab your copy by clicking here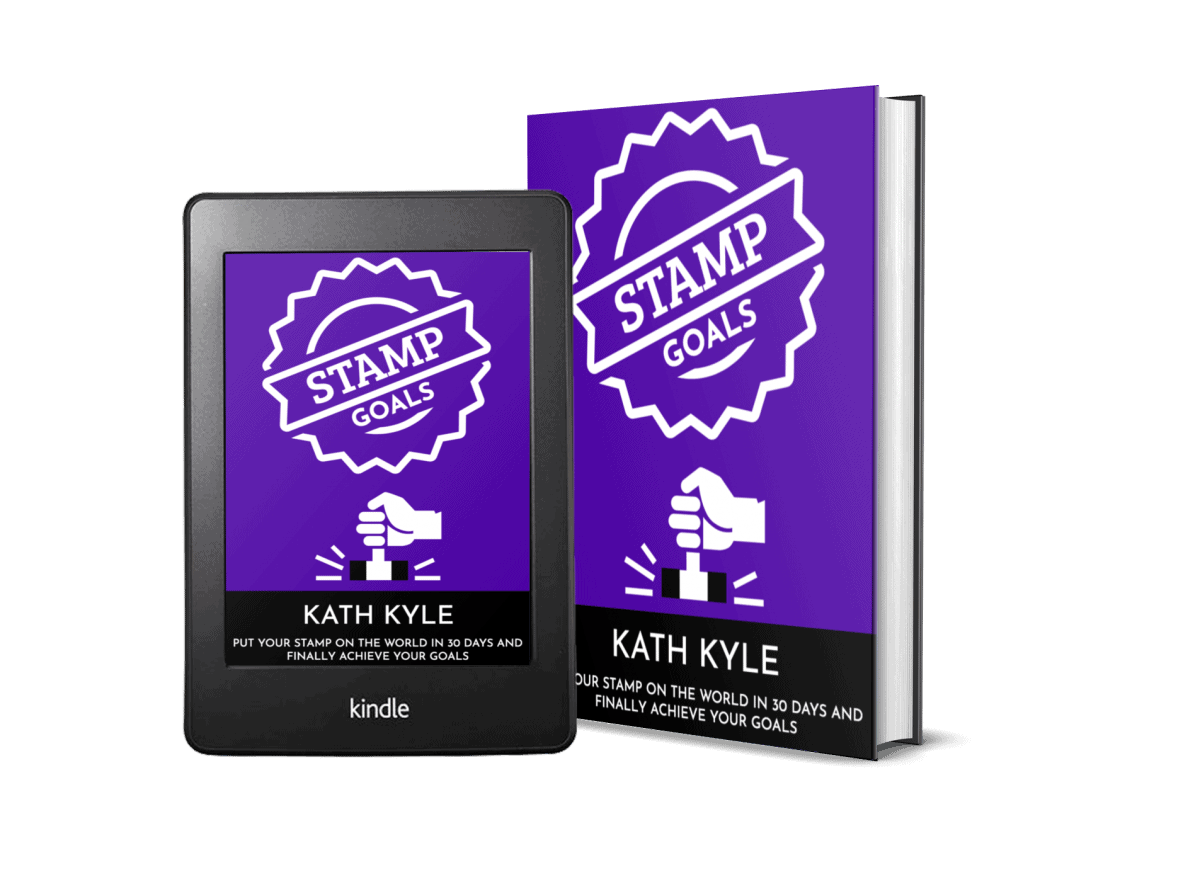 ✔️
ALL PRODUCTS
:
See all of my products and courses by clicking here.
Free Gifts
✔️
MANIFESTING WITH REVERSE MEMORIES GUIDE
: Creating Reverse Memories Is The Best Way To Guarantee Your Desires Will Manifest In Reality.
Click here for FREE access.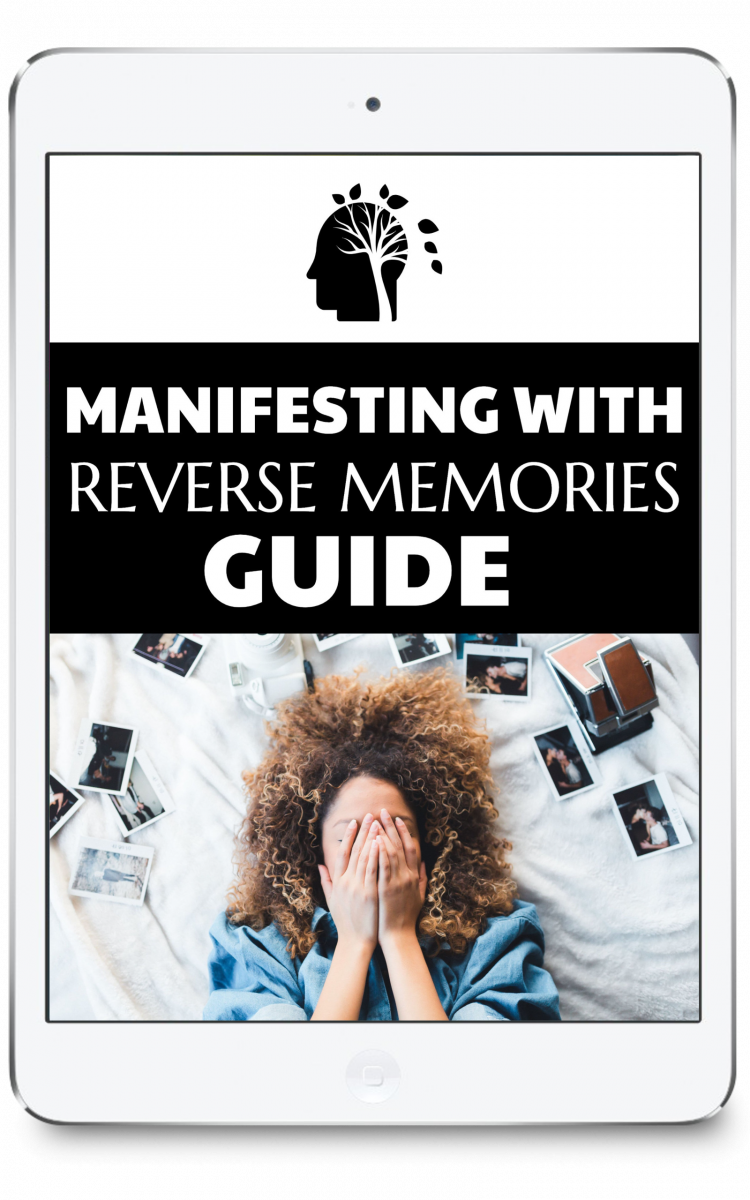 ✔️
10 MINUTE MANIFESTATION MEDITATION
: This powerful 10 minute manifestation meditation will reprogram your subconscious mind and is guaranteed to bring your manifestation into your physical reality.
Click here for FREE access.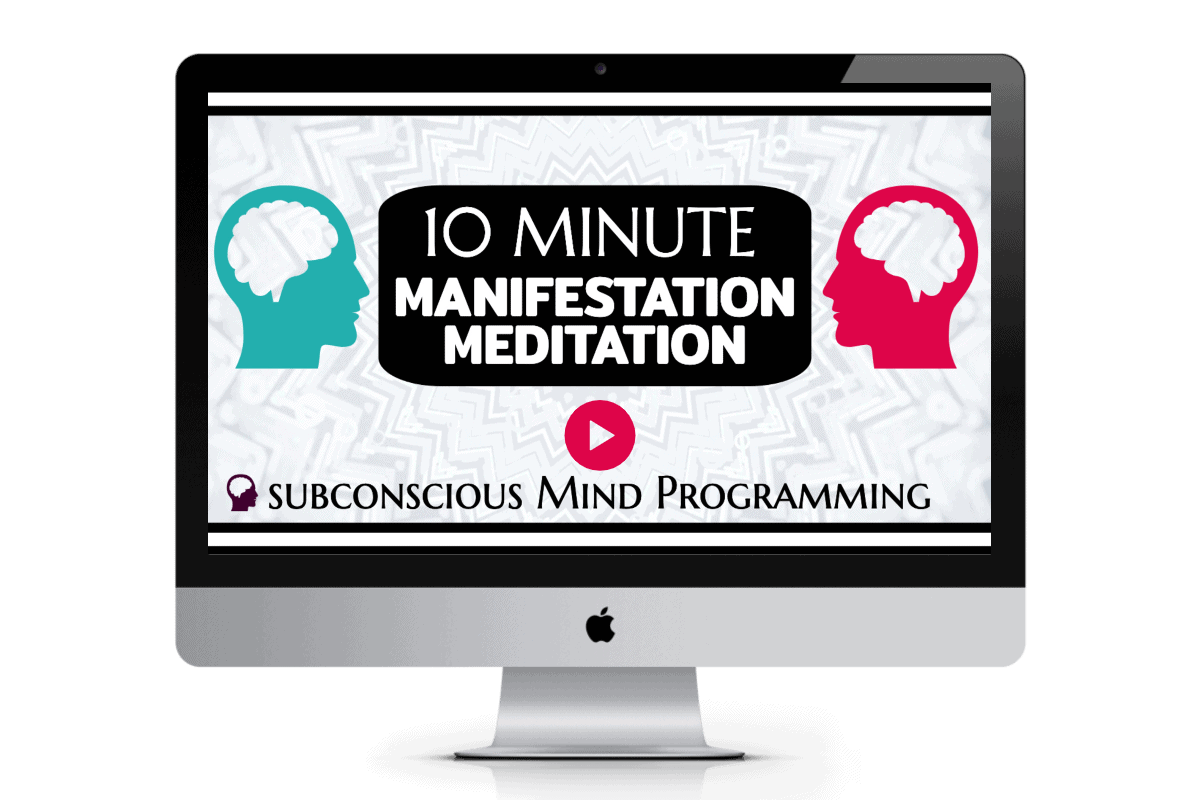 ✔️
MANIFESTATION MILESTONES BOARD PACK
: MANIFEST FAME, FORTUNE, and FOLLOWERS by creating a vision board and achievement board to manifest business milestones.
Click here for FREE access.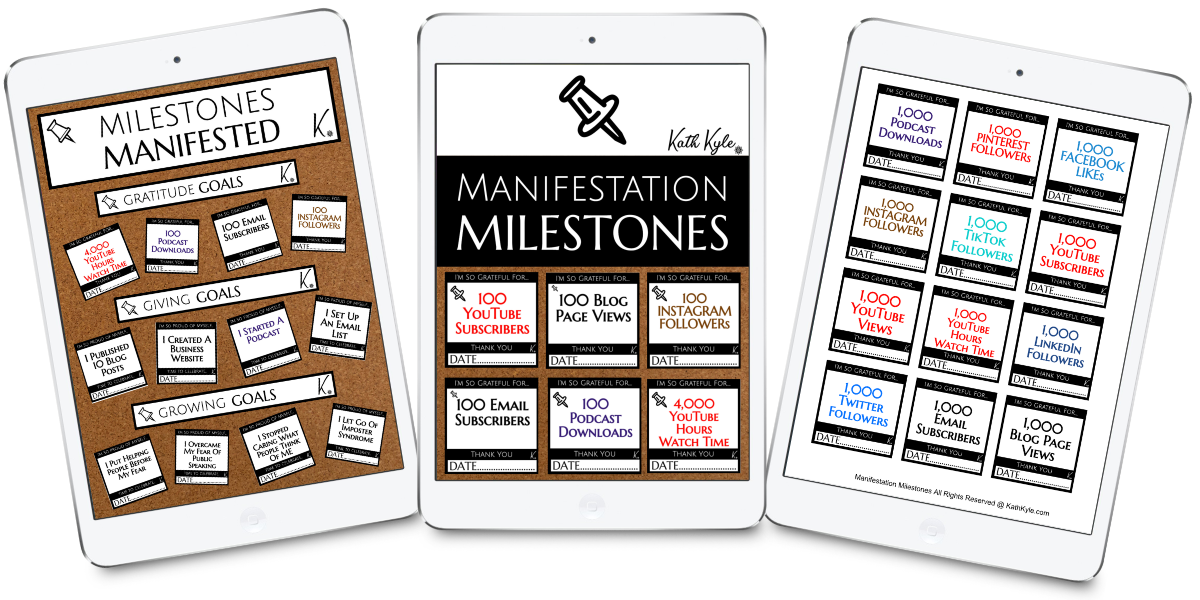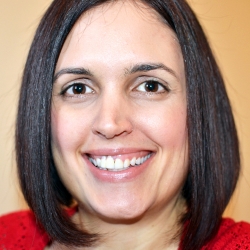 Latest posts by Kath Kyle
(see all)
Please follow and like my content: