Here's exactly how to collapse time so that you can bring future goals into the present and achieve them immediately.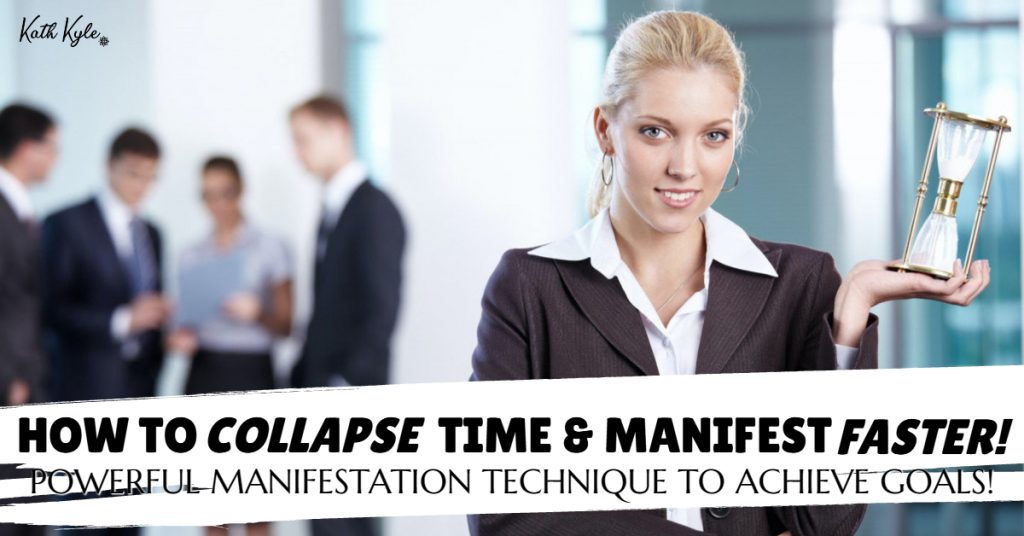 I have always been a massive fan of setting goals and working towards their achievement.
I get so excited about a new goal and love to work on new tasks as I am a big achiever by nature.
But just because I'm good at checking things off my to do list doesn't mean that I was good at achieving my end goal.
Although the art of writing down your goal can mean it's much more likely to be achieved, unfortunately most people who set goals don't actually end up achieving them.
Have you ever written the same goal down in a journal year after year.
"By the end of this year I will have made $1,000,000 in revenue".
And how many years did you write the same goal over and over again and it still didn't manifest?
I've been there, and have spent the majority of my life writing down the same goals that never actually materialized.
It's pretty heartbreaking to just keep setting the same goal time after time. And in my cases it tends to lead to people giving up on setting goals completely.
This is what happened to me. I gave up on even writing down my goals. I was too scared to even notice my desires anymore as I felt like I was constantly disappointed.
Even when I discovered manifestation, I tried various manifestation techniques and month after month I'd write down the same thing I wanted to manifest, and month after month it wouldn't show up.
Now I know where I was going wrong with both goal setting, and manifestation techniques and I'm sharing it to avoid you making the same mistake.
My Intention For You Is That You:
Set goals you will actually achieve
Collapse time and bring future goals into the present
My Name is Kath Kyle. I lead the Hustle-Less, Manifest-More Movement.
I help conscious creators and change-makers manifest success through my Dream Business Coaching, Courses and Club.
You can either read this blog post below or listen to the audio version. Click the button below to listen to my podcast episode and click here to subscribe to my podcast.
You can also watch a summary of this post in the video below if you just want the highlights. Click here to subscribe to my Youtube channel.
Why Traditional Goal Setting Doesn't Work
The biggest mistake people make with goal setting is to attach a date in the future to your goal and then get into a state of "Waiting".
You manifest what you feel and believe, so if you believe that you have to wait for your goal to be achieved, and you feel like you don't have it, then that's exactly what you are going to get more of.
Most people think that attaching a future date to a goal is the problem and should always be avoided but I disagree.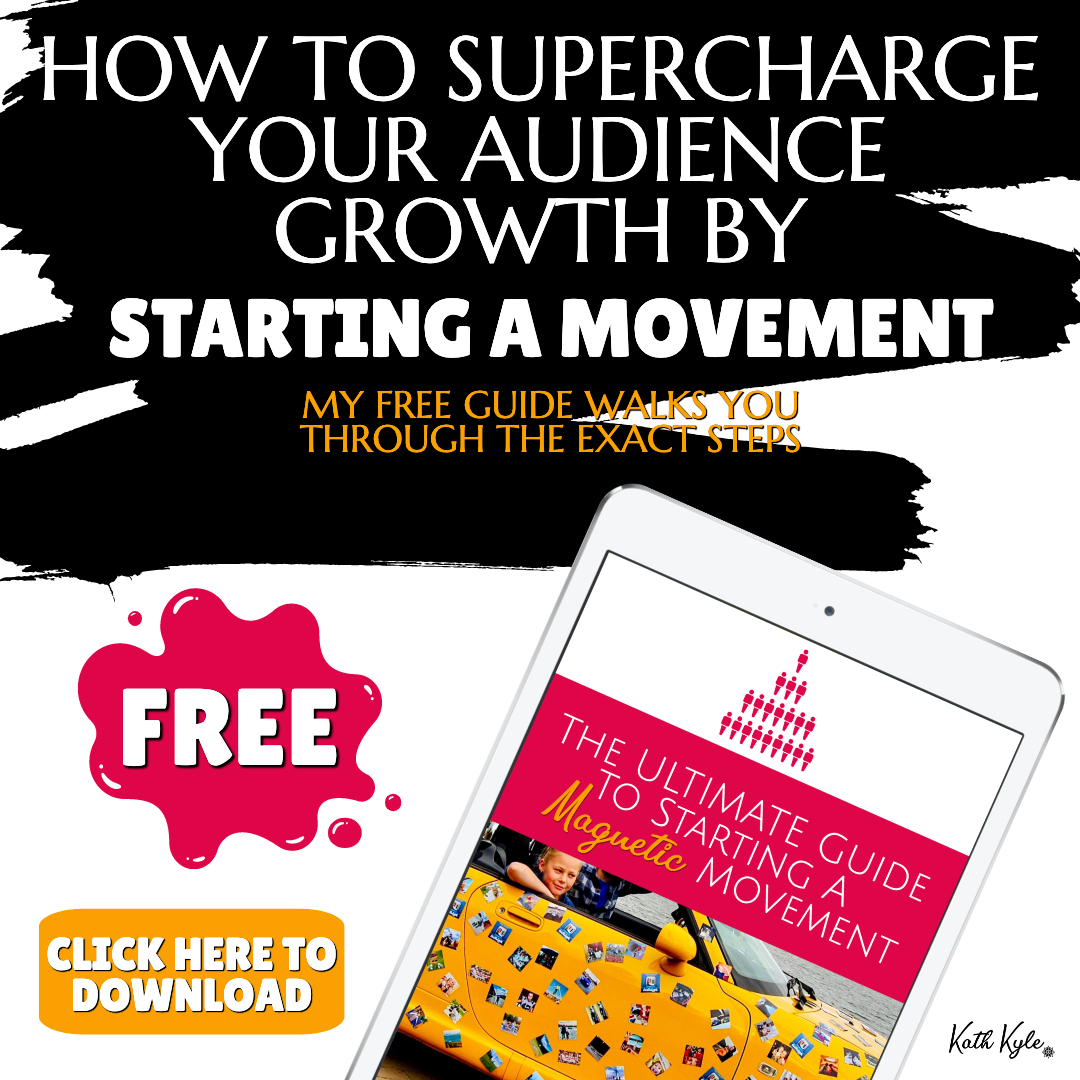 I personally have manifested many things on particular dates.
If you believed wholeheartedly that you were going to receive your manifestation on a particular date, it would happen for you.
But most people don't actually believe this and they don't feel like they have any control over whether or not they achieve a goal, so they just assume the state of waiting for it to happen, and it never does.
Whether you set a date for a manifestation or not is not a problem. You can choose to set dates or not as you choose.
Fortunately, however you choose to set your goals, there is a way to guarantee that your goals will be achieved and it's called Collapsing Time.
What Does It Mean To Collapse Time?
Collapsing Time means that we quantum leap into a parallel reality where we already have what we want. Collapsing Time means that our manifestations happen immediately outside of time and space, but in our physical reality, we have to wait for our manifestation to be revealed in a natural way.
As humans we live in a world that operates based on time and space. We generally have to wait for things to arrive, and we have to move into a particular space in order for us to have what we want.
Basically that means that we have to take action, and work hard, and wait a long time to get good results. That is the traditional approach to goal achievement, and I'm here to show you a much easier way to manifest what you want.
Thankfully, we are not just limited to our human capabilities. We are also spiritual beings, and our main spiritual gift is to be able to change our realities with our imagination.
If you can use your imagination in the correct way, you can actually bring results that would take a long time and hard work for most people to achieve into your present reality extremely quickly.
Some desires can manifest immediately, but most take some amount of time. This is the time it takes for other people to get ideas and act on ideas, which in most cases has to happen for you to achieve your desires. It can take weeks for some desires to manifest, but they can also happen in a matter of days.
This is what it means to collapse time, to bring things from the future into the present in next to no time at all.
Why It's Better To Collapse Time Than Wait For Goal Achievement
It goes without saying that most of us see ourselves as impatient, and when we set our minds on something we don't want to have to wait for it. So obviously a major benefit of collapsing time is that you don't have to wait very long at all for your manifestations to arrive.
Another benefit of not having to wait is that you get to flip your to do list on it's head.
Typically when you set goals, you decide what goal you want, and then you start to make a list of tasks that you feel might help you achieve that goal.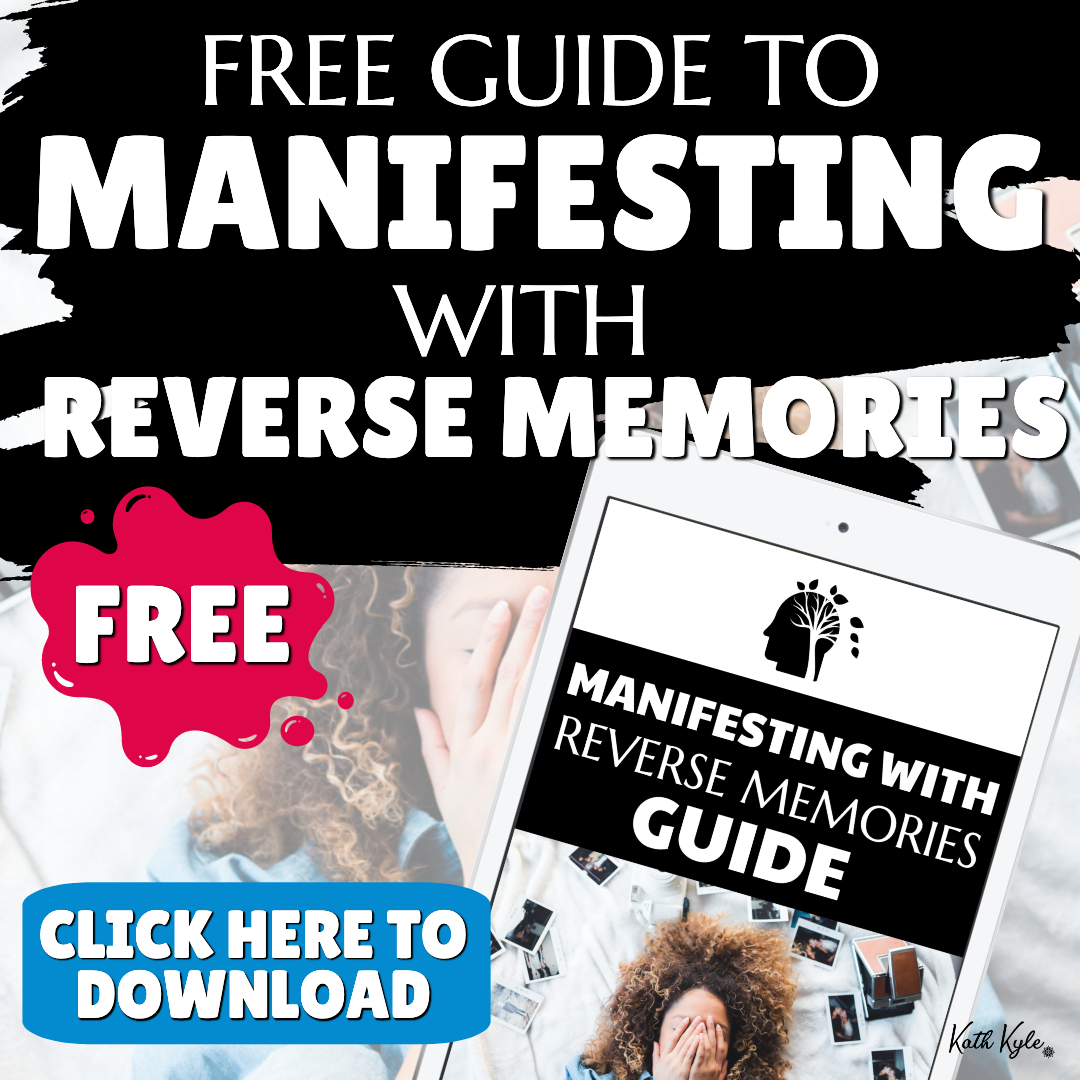 And those tasks probably would be great things to do, if you actually believed you were going to achieve your goal. But seeing as your goal was never going to manifest, all of these tasks are a total waste of time.
But if you collapse time, you know that your manifestation is coming, you can be sure that any tasks you feel compelled to do will lead to the realization of your goal. This is called Inevitable Action.
During the time after you have collapsed time, and the time when your manifestation is brought into the physical reality, this period of time is called the Automatic Unfolding.
Once you've collapsed time, anything that happens after that period of time happens automatically, including your actions. So you can guarantee that any action you take is definitely going to be required to achieve your goal.
This avoids any wasted time and effort.
So now you probably want to know exactly how to collapse time. This is what I'm sharing next.
How To Achieve Goals Immediately By Collapsing Time
Here is what you need to do to collapse time.
Get into a relaxed state where you won't be disturbed.
Bring your attention to your goal, and feel as if it's already real. Feel like it's already happened.
Project yourself a little while into the future after you've achieved your goal and feel the feelings of being in that future state.
Where are you?
What are you looking at?
What are you doing?
How do you feel about yourself?
What have been the results in your life after achieving this goal? What has changed?
What have people been saying about you now that you've achieved this goal?
What have people been saying to you about your achievement?
When you go through this process, it is called creating a Reverse Memory. A Reverse Memory is a memory that is created before an event has occurred so the normal order of making memories is reversed.
Reverse Memories are the thing that manifests your desires into reality and collapses time.
Whatever you want to manifest in the future, if you create a Reverse Memory about having achieved your goal, this is what will make it happen in your physical reality.
Mistakes People Make When Collapsing Time
The biggest reasons why people struggle to actually collapse time even when they've gone through the process of creating a Reverse Memory is because they either:
Still don't believe they can actually collapse time so they talk themselves out of it
Don't actually want, or they're not actually ready for what they are trying to manifest
Don't worry, there is a solution to both of these problems that I'm going to walk you through now.
How To Be Confident Enough To Achieve Your Goals Immediately
If you really want your goal, but you don't actually believe that your goal could possibly happen, I suggest you start out by manifesting something really small to get your confidence up. Once you manifest smaller things, you can move up to the bigger things that you really want.
As strange as it might sound, a lot of people set goals that they don't actually want to achieve.
It might sound weird but it's much more common than you think.
The reason why this happens is because people assume that when they achieve their goal this will mean that they will end up with a much bigger workload to deal with as a result. They don't want the bigger workload so they are inadvertently pushing away the achievement of their goal.
For example, say if you want to manifest an extra $10,000 of revenue each month but deep down you feel like this would result in you having to take on more clients, and work much longer hours.
Nobody wants a goal that means they have to do something that leads to burnout, so it's understandable that people push away their goals if they have a belief it is going to lead to something negative in their life as a result.
And there is actually a simple solution to this problem too.
What you need to do is set your own rules as to what you are willing to do and create Reverse Memories for those too.
For example, if you created a Reverse Memory that you typically only work 20 hours a week (and say for example right now you work 40 hours a week).
And then you created a separate Reverse Memory for making $10,000 a month.
That would mean that both of these Reverse Memories have to manifest.
That will give you the confidence that you are going to make the money you want to make while working half the hours that you normally do.
It's not your job to work out how this happens in reality. Just know that the idea will come to you and it will feel good to you, whether that means you raise your prices, change your offer, or make money in a passive way that doesn't require extra time from you, it will happen in a very natural and easy way.
Just relax and trust the Automatic Unfolding of events after you have put your goal achievement in motion.
Next Steps
Now that you know how to collapse time, would you like to know more about how to manifest the exact results you desire by using Reverse Memories?
Creating Reverse Memories Is The Best Way To Guarantee Your Desires Will Manifest In Reality. In this FREE guide, I walk you through exactly how to do it.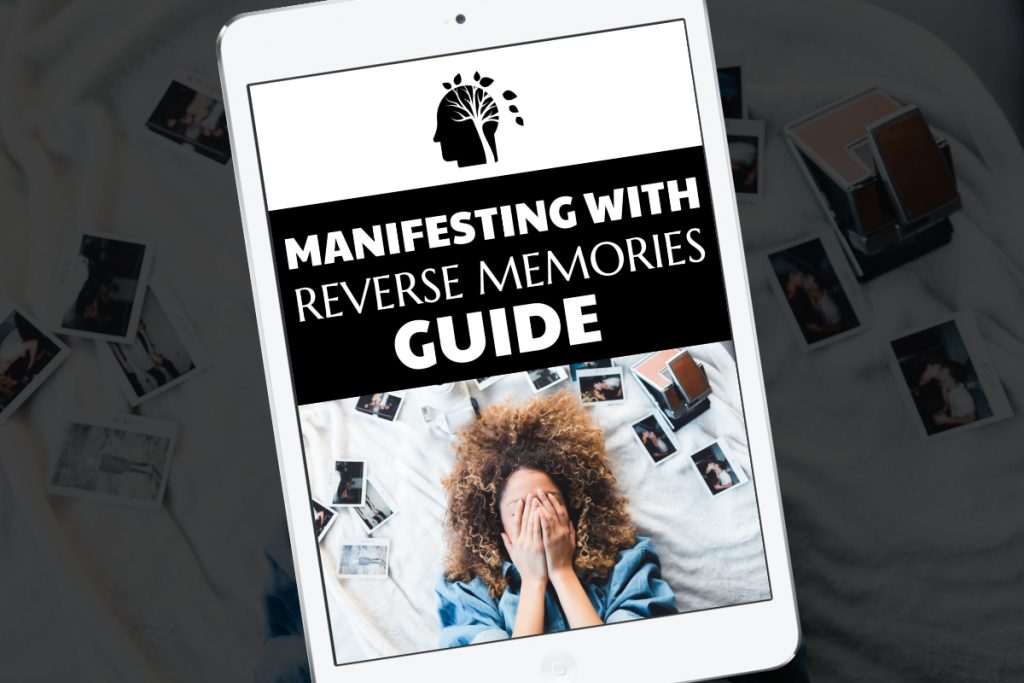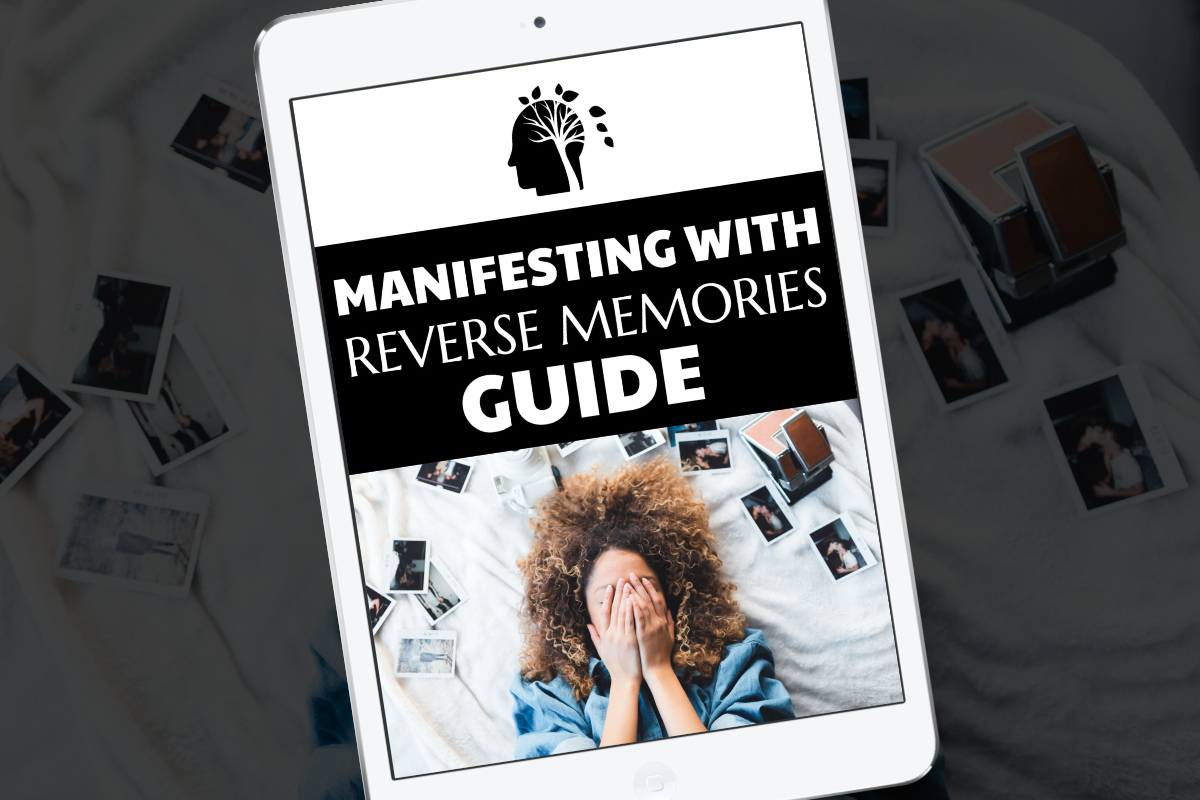 One of the most exciting things to happen to my business when I implemented this process is to double my revenue in my passive business in one month without taking any additional action towards it.
Get my free guide by clicking here.
Take Your Goal Setting To A Whole New Level
If you would like to fully get to grips with this technique to achieve goals by collapsing time, I'd like to invite you to take my Manifestation Goals Challenge inside of my Business Manifestation Club.
Every month in the Business Manifestation Club we take challenges together on different themes that are guaranteed to radically transform your life and your business.
Get Ready To:
Manifest the business of your dreams
Step into a new reality as a confident CEO
Transform your destiny as a successful business owner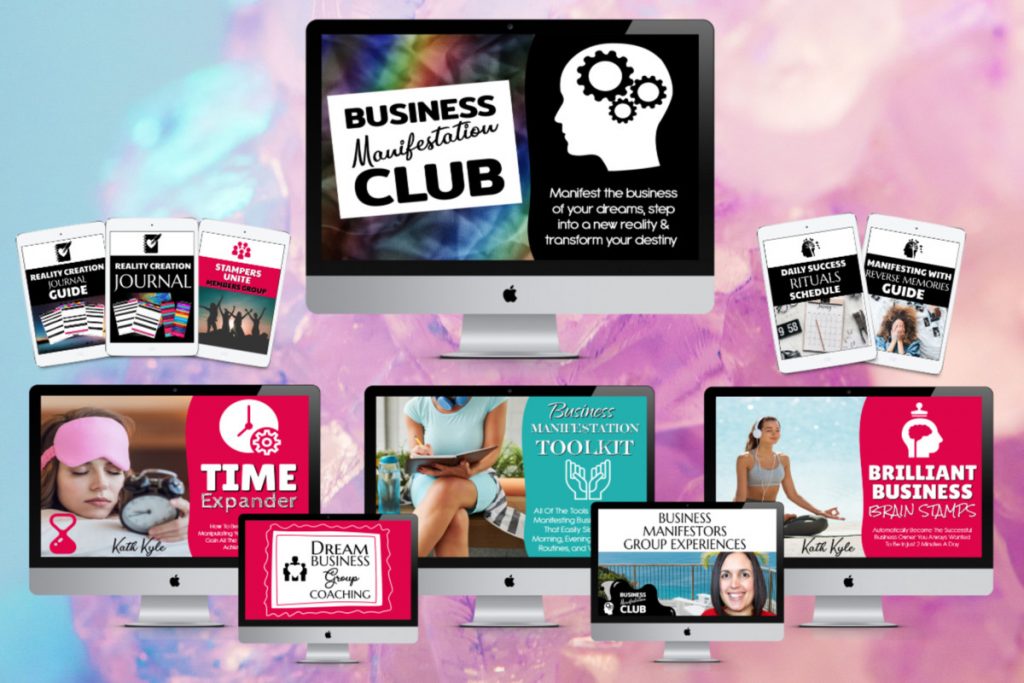 Right now I am giving you FREE access to my Manifestation Goals challenge, and EVERYTHING else inside my Business Manifestation Club for 7 days.
Come and join us and put it to the test.
Click here to join the Business Manifestation Club FREE.
Now it's your turn to go and put your STAMP on the world.
Conclusion
Success Manifestation is a massive passion of mine, and I have many more posts and videos to help you reach your goals so stick around and see what else I can help you with by checking out the links below.
Related Resources You Will Love
TAKE YOUR MANIFESTATION TO THE NEXT LEVEL
Products
✔️
MANIFEST YOUR PERFECT DAY COURSE
: Manifest the life of your dreams and live your perfect day every single day.
Click here for access.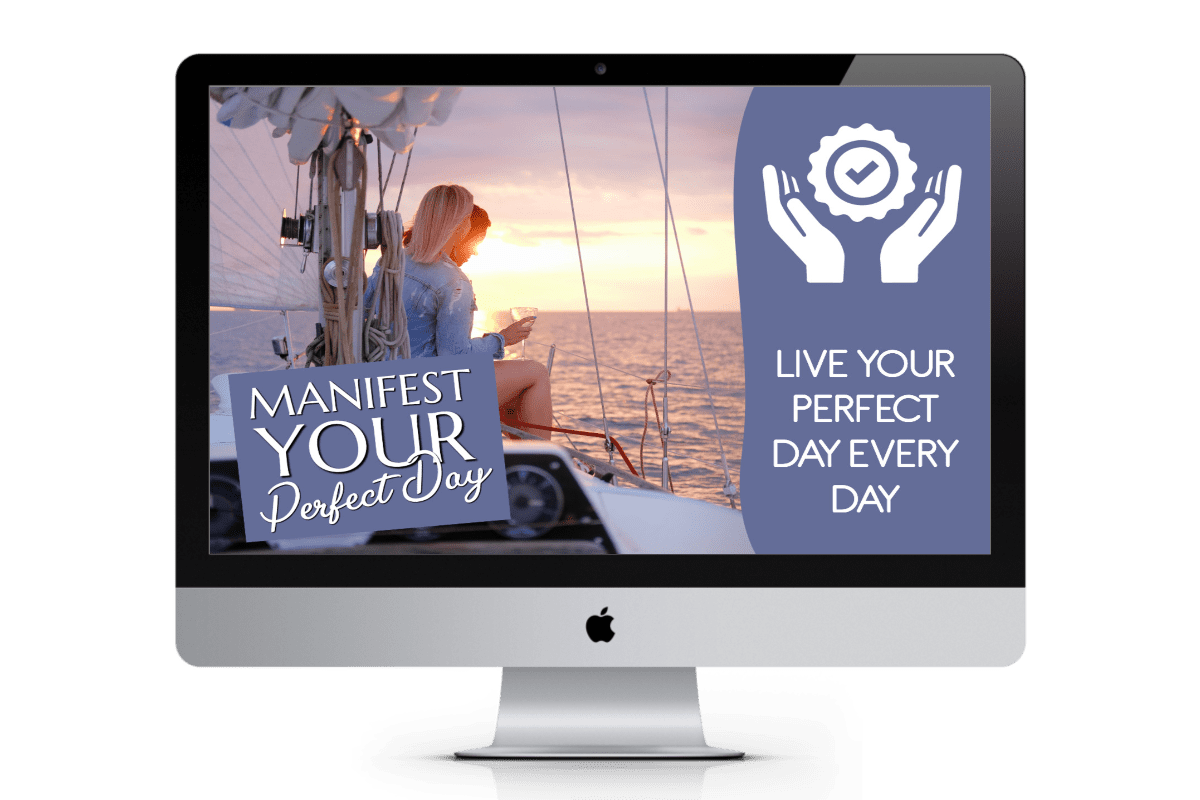 ✔️
BUSINESS MANIFESTATION CLUB
: Manifest a MASSIVE, engaged, and positive FOLLOWING, and MANIFEST the MONEY you desire using never-seen-before manifestation techniques that will transform your results in both your work and your life as a whole.
Get a FREE 7 day trial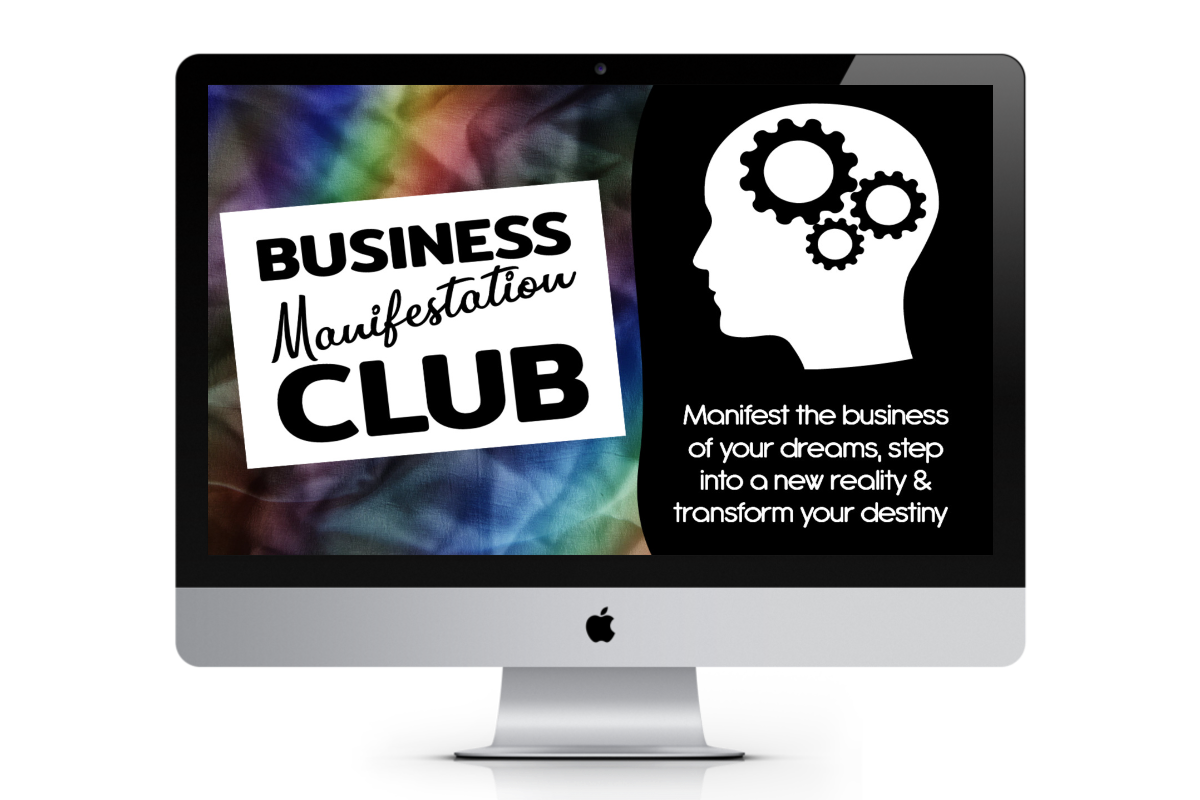 ✔️
DREAM BUSINESS MASTERY
: Get access to ALL of my current and future products. This is my entire system to take you from your current reality to business mastery.
Learn more by clicking here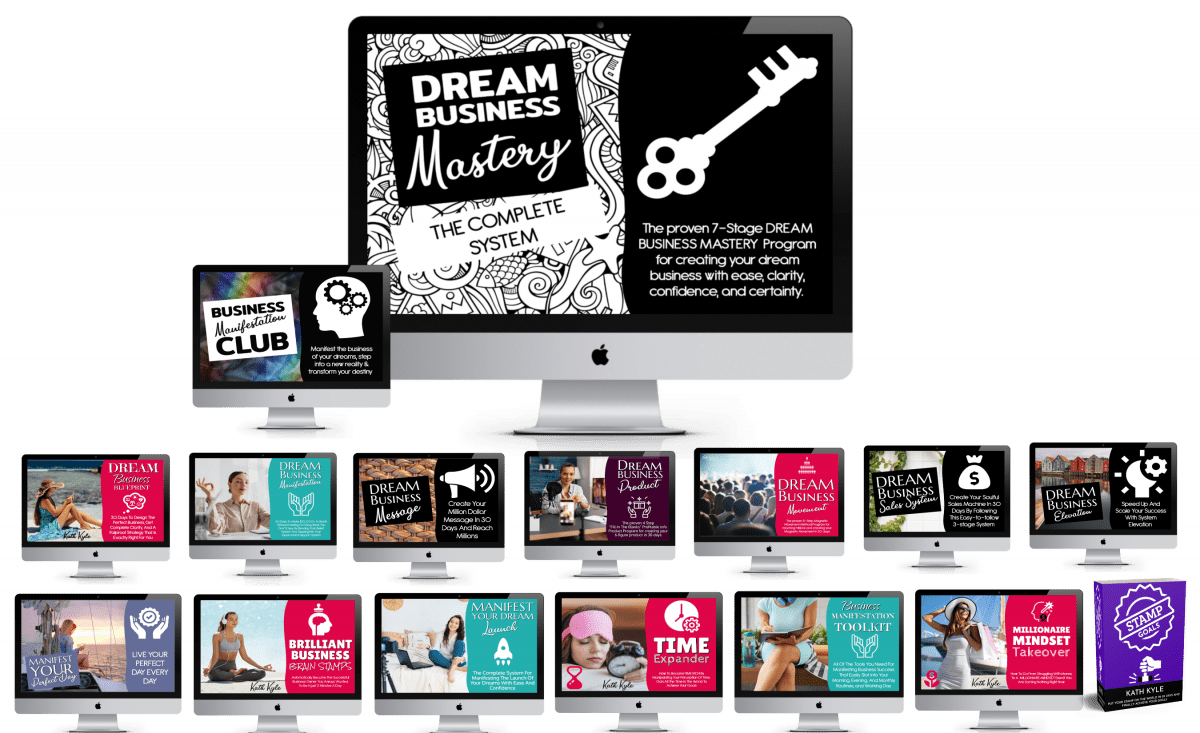 ✔️
STAMP GOALS BOOK
: Put Your STAMP On The World In 30 Days And Finally Achieve Your Goals.
Grab your copy by clicking here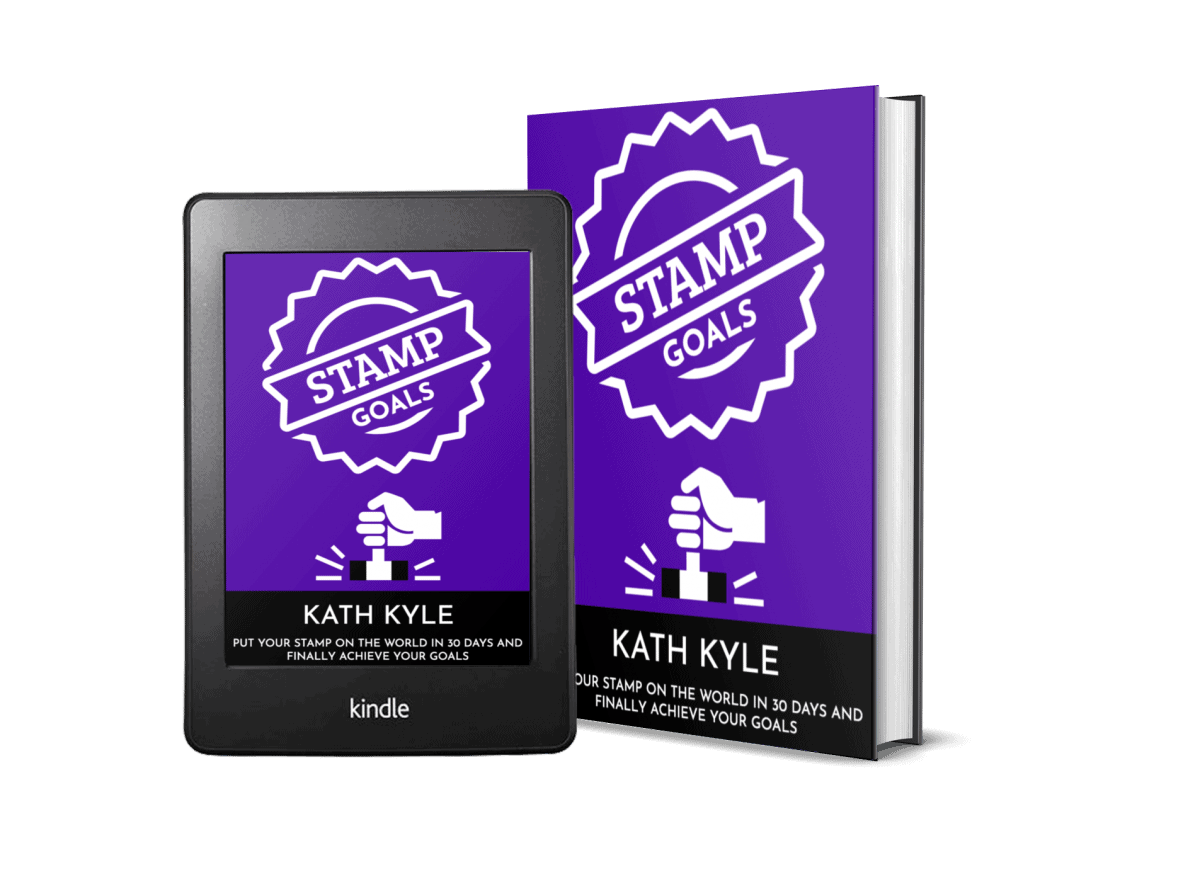 ✔️
ALL PRODUCTS
:
See all of my products and courses by clicking here.
Free Gifts
✔️
MANIFESTING WITH REVERSE MEMORIES GUIDE
: Creating Reverse Memories Is The Best Way To Guarantee Your Desires Will Manifest In Reality.
Click here for FREE access.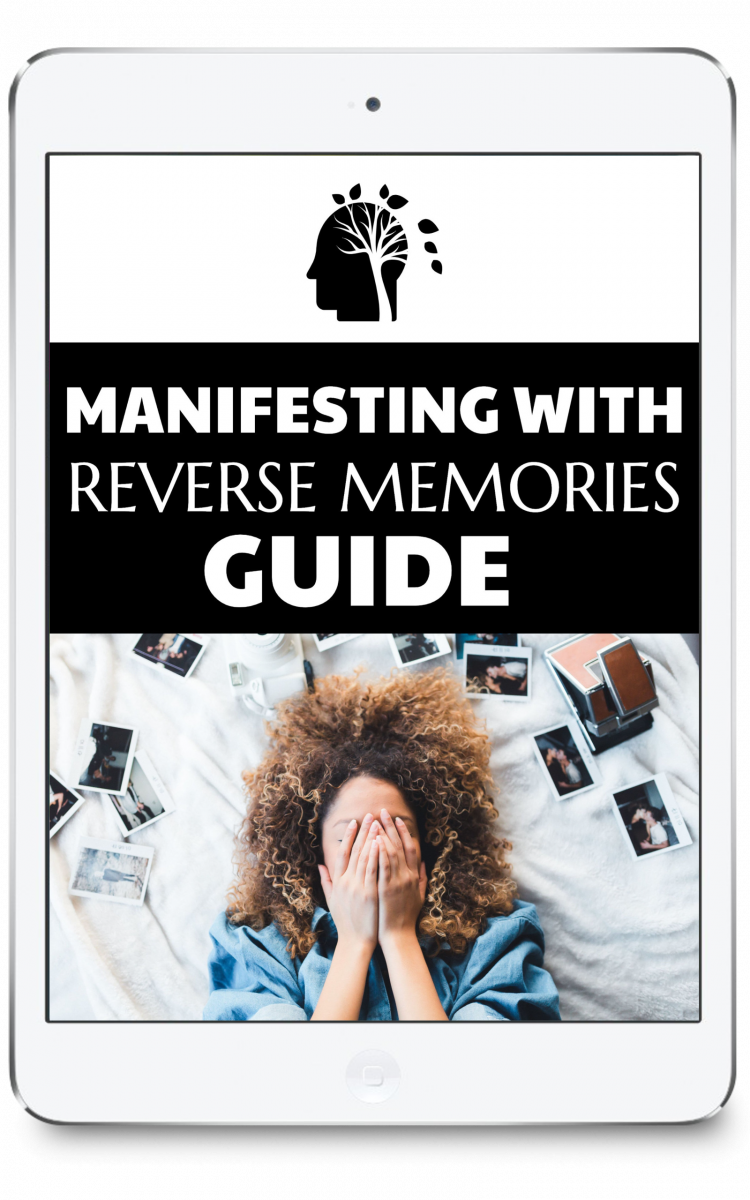 ✔️
10 MINUTE MANIFESTATION MEDITATION
: This powerful 10 minute manifestation meditation will reprogram your subconscious mind and is guaranteed to bring your manifestation into your physical reality.
Click here for FREE access.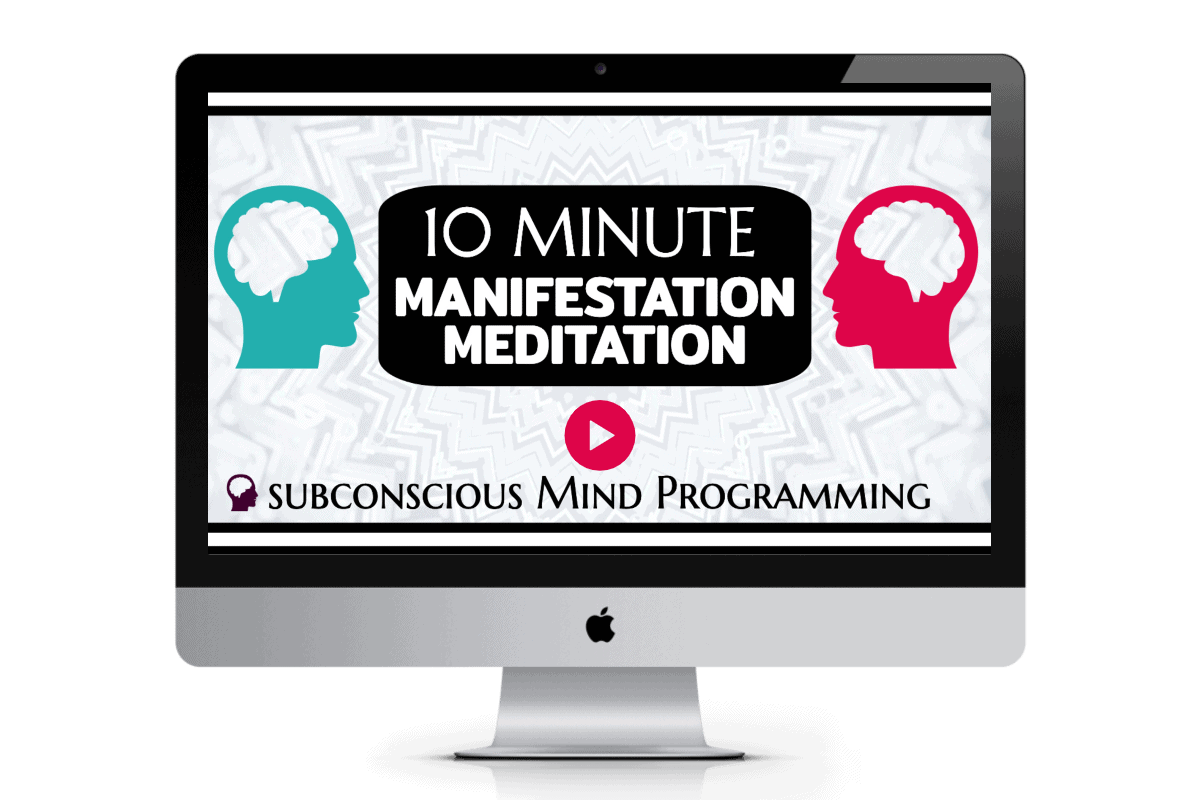 ✔️
MANIFESTATION MILESTONES BOARD PACK
: MANIFEST FAME, FORTUNE, and FOLLOWERS by creating a vision board and achievement board to manifest business milestones.
Click here for FREE access.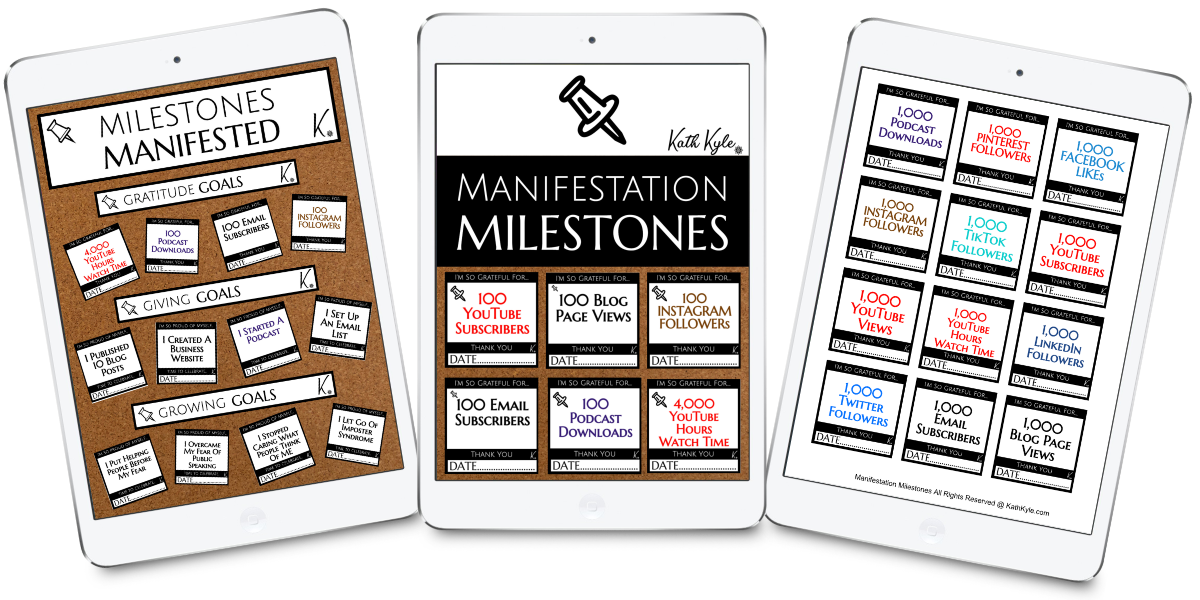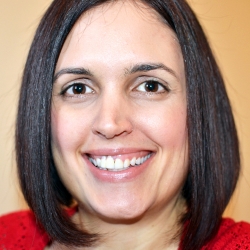 Latest posts by Kath Kyle
(see all)
Please follow and like my content: