I share my exact process for writing a 90,000 word book in 1 month writing for just 1 hour each day. I break down all of the steps that I took so you can easily do the same.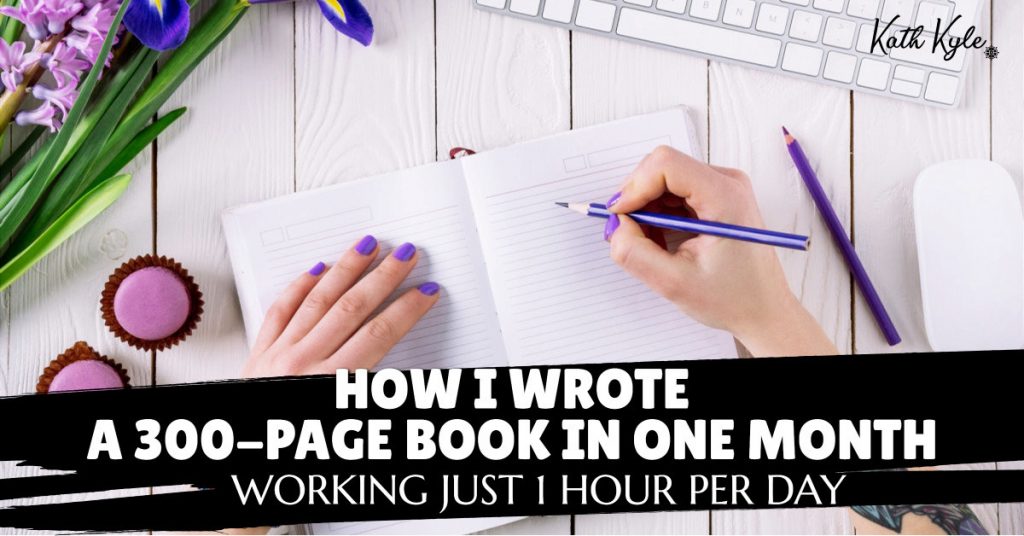 Today I'm going to share my story about how I wrote a whole book in just one month by working on it for just 1 hour per day.
This book is not one of these short kindle books. It is a long 350 page, 90,000 word book, so it's a proper full sized book.
I wrote a book called STAMP Goals, and this book helps entrepreneurs to set goals and then actually achieve them. It is designed to help those people who have a desire to put their STAMP on the world and help people to transform their lives.
Today I'm going to share my story with you about how I got the idea to write this book, what I did to prepare for writing my book, how I got over imposter syndrome and felt expert enough to write a book on a subject that had never been tackled before.
I'll also share how I decided when was the right time to write the book, how I outlined the book, how I motivated myself to actually finish the book, how I sped up the process of writing the book, and why I waited so long before publishing my book.
You can either read this post below or listen to the audio version. Click the button below to listen to my podcast episode and click here to subscribe to my podcast.
You can also watch a summary of this post in the video below if you just want the highlights. Click here to subscribe to my Youtube channel.
Today You Will
Use my story to motivate yourself to achieve a big goal in a short amount of time
Discover how you can write a book in just a month, even if you only have one hour a day to work on it
What Are You Struggling With?
Have you ever wanted to write a book? Or maybe you've started writing a book and didn't finish it, or never got it published?
Let me know what you are struggling with by leaving a comment on my blog, YouTube channel, or send me a DM on Instagram.
Please Note…
My aim is for you to use my story as a manifestation model, to show you how to take inspired action to manifest your own desires. You can apply what I'm about to share with you to inspire yourself to complete any of your passion projects.
It is my sole aim to share my stories in the hope that it encourages you to think bigger about what you can achieve in your own business. However, I recognize that when we hear stories of other people's success, on one hand it can be truly motivating, but on the other hand, it can also bring up feelings of disbelief in our minds.
As I share my story, I want you to notice if you are thinking any negative thoughts about yourself such as "I could never do that", or "That only worked for her before x, y, and z, and it would never work for me".
If you find yourself feeling any kind of negative feelings, write them down and work through them. Journal around them asking yourself why you feel like this and then release these feelings.
When you release these feelings, I call this rejecting the disbelief. When you reject any disbelief you have in your own success, this is when you can start to step into your own success and easily manifest your desires.
I have a whole section on how to reject disbelief in my book, STAMP Goals. This is part of the process of achieving the goals that you have set for yourself.
My Name is Kath Kyle.
I Help Content Creators And Changemakers Manifest Business Success Through Spirituality, Self-belief, And Strategy
I Help You Master Your Marketing, Manifestation, And Money Mindset
How I Got The Idea To Write A Book
So how did I get the idea to write a book in the first place?
I feel like there is a big gap in the market when it comes to goal setting for business owners. We do have some existing goal setting frameworks but they are designed for employees not entrepreneurs. And when you use those existing goal setting frameworks it can not only keep you stuck, but also demotivate you so much that you end up quitting your business completely.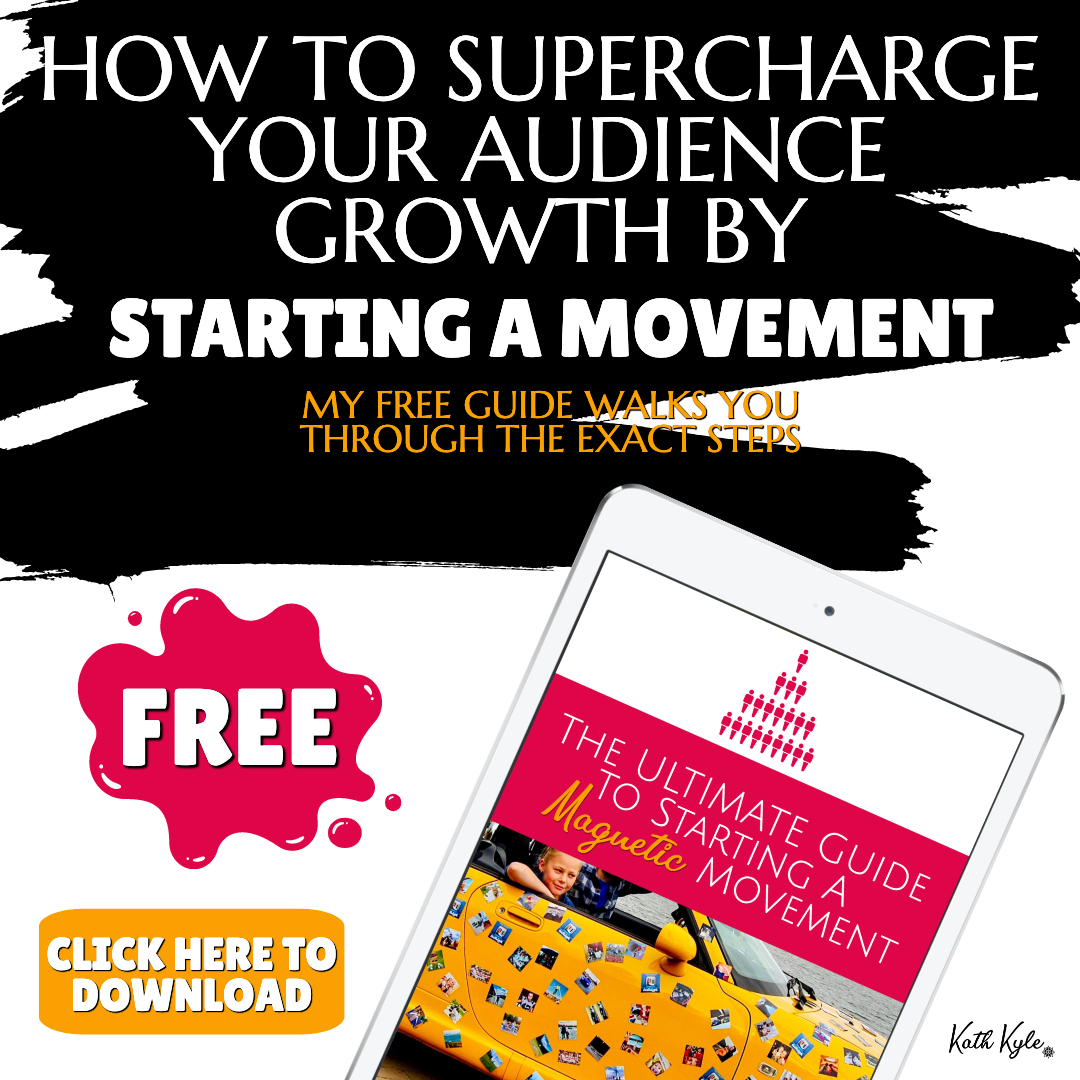 I won't go into my goal setting story now as I cover this in my book, but in a nutshell, I got so demotivated by not achieving my goals month after month that I gave up on goal setting for good, and my businesses started to go into decline. This went on for years and years until I declared enough was enough.
I knew that setting goals and achieving them was the key to me renewing my passion with my business, so I went out on a mission to discover a goal setting framework that would actually work for me.
After months of searching and reading every goal setting book on the market, I couldn't find what I was looking for, so I knew that this was something I needed to create myself.
It is quite a big undertaking when you cover a topic that has never been tackled before, and I probably wouldn't have even started this book had I not felt like it was my calling to do so.
As I was reading around the topic of goal setting, I got a sudden insight into how this subject could be applied to the world of business. I was making some notes and the acronym STAMP just came to me all of a sudden.
STAMP stands for Specific, Transformational, Actionable, Manageable, and Purpose-Led.
These are the attributes of a goal that passionate business owners need to be focusing on when they are setting goals.
I thought it was pretty good, and I thought I would write a blog post on the subject, so I showed it to my husband, and he said "Wow that's a fantastic concept. That needs to be a book. This book needs to be written, and if you don't write it, I will". He was joking about writing the book himself, but that was the prompt I needed to really see this concept as a book.
Sometimes it takes someone else to see the bigger picture as often we can think too small.
So, I agreed with him that the concept should definitely be a book. I knew I wanted to write a book at some point of my journey, but I thought it would be years in the future before I started writing a book. I had read other people's stories about how they launched their books and it usually involved a lot of marketing to their very large email lists.
At the time, I had about 50 people on my email list so I knew that my email list would not give me the kind of boost I would need to successfully launch a book. So I put the book on the back burner.
Even though I put the book on the back burner, I did not put the subject of goal setting on the back burner.
Prep Work I Did Before Writing My Book
Another point I want to address is the prep work needed to write a book.
Even though I did not plan to start writing a book, I did unknowingly do some prep work before I started.
I was so passionate about the subject of goal setting because I was on a mission to save my own declining businesses, so on a personal level I was very invested in the topic.
We had just had the news that my husband had got a job in a new country, so we had a lot of work to do to move house. I had been in the process of starting a new business, my personal brand, Kath Kyle, but hadn't really got it off the ground yet and didn't yet have an audience or anything to sell. All I'd done was write a few blog posts and a few social media posts but nothing had really happened yet.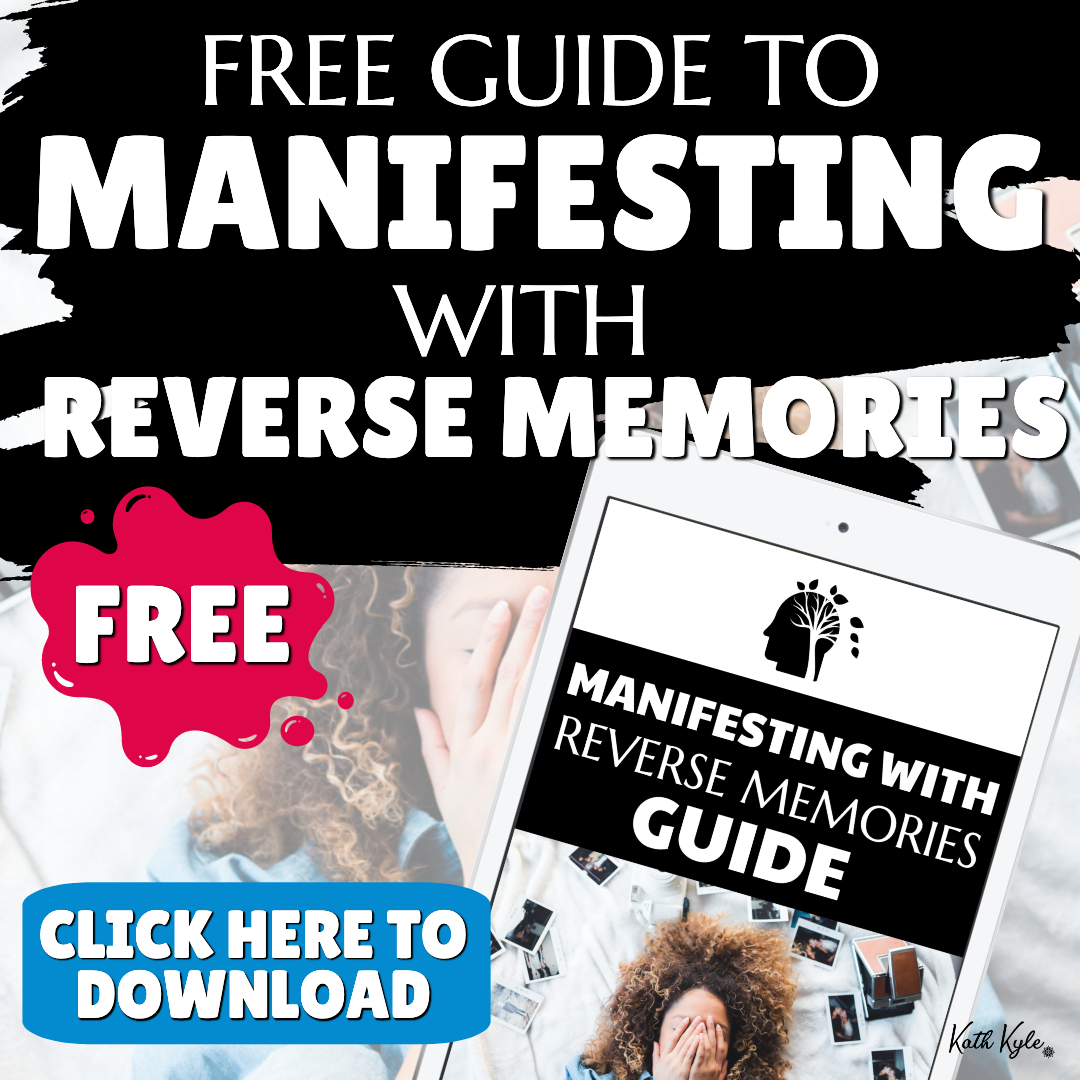 So I put my new business on hold for a little while, as I focused on selling our house. It was quite a long process.
Everyday somebody new would come to view the house. It was usually a woman, and if she liked it, she'd later make an appointment for a second viewing to come back with her husband so he could view the house.
We lived in a big house and it took almost my whole day to get my house looking perfect like a show home for each new viewing that would take place. I spent months just cleaning my house, making beds, hiding all of the kids clutter, and taking anything we needed for our general needs out to the garage every day.
As I was doing this work, I listened to every audio book I could find on the subject of goal setting. Some of the books I listened to more than once. Sometimes I didn't listen to anything and just thought about goal setting and goal achievement constantly.
During this time I had insight after insight pouring into my brain like a constant download. I would make notes on all of the insights that I received. I had one big notes document that I would add my new insights to, and it got larger and larger every day until it was massive.
When you want to get new ideas, the best thing you can do is to give your brain time off from your normal activities. If you spend all day in a job that demands your constant attention and every evening watching TV it doesn't give your brain any space to receive new insights. That's why a lot of people get ideas in the shower, as it's the only time their brains take a rest from constantly processing all of the time.
Meditation is also a very powerful way to receive information, just quieting the mind will give you the space to receive any insights that need to come your way.
There is also something important to do before giving yourself space to receive insights, and that is to ask a question. What problem do you want a solution to? You need to focus your questions so you can receive the answers. What problem do you have? What would you like to improve in your life?
How To Feel Expert Enough To Write A Book
This brings me on to the next point, how to get over imposter syndrome, step into your own authority and have the confidence to label yourself as an expert on a particular book.
I've got to tell you that at no point in my past did I ever think I would be writing a book about goal setting. Because I felt like I struggled with goal setting more than anyone I knew. How could I struggle with something for years and then suddenly be an expert on the topic?
Here's what I believe…
When you struggle with something that you really want to master, that is the exact topic you should be writing a book about. You are more driven than anyone else to find a solution to your problem because you desire it so greatly.
I LOVE to go through transformations in my life and then help people to transform in the same way that I did. It's my very favourite basis for a business, a book, or a product.
I've used the principle of transformation to help millions of people in the past, because my brain naturally looks for ways to solve problems, and I have the determination to be consistent with different solutions until I find something that works for me. It is that attitude that has helped me find a lot of success in my businesses so far.
So the fact that I had struggled with goal setting and figured out a system that worked for entrepreneurs meant I was exactly the right person to write a book about goal setting.
I don't believe that you always need qualifications to master a particular subject. I believe that if you delve into a subject deep enough, and experient enough with different ideas, you'll finally uncover your own unique insights that will really help to transform your own life and then go on to transform other people's lives in the same way.
I never really think of myself as an expert at anything, just a contributor. I contribute to a particular topic and bring a different solution to the world to help people solve problems. As I don't need to see myself as an expert, it takes the pressure off me and I don't feel like I need to know everything about a particular subject because I know that the angle that I've taken towards the solution will help people, that it doesn't matter that I haven't been studying that subject my whole life.
I also think that if you're truly passionate about a subject you can learn a lot about that topic very quickly if you dive headfirst into it.
Why I Decided To Write A Book When I Did
Even though I said that I was going to wait years to build up an audience before I wrote a book, I ended up writing STAMP Goals just a few months after I got the idea for it.
After spending months thinking about nothing but goals, I ended up with a massive document of notes and lots of unique insights within this document.
Despite this, I was still planning on waiting years before writing my book. I decided I was going to create a course first because I could price a course higher, sell that, and use the money to help me grow my team, reach more people, and then when my audience was bigger finally write my book.
However, after I having a really long break off work during the house moving process and home-schooling my kids during the pandemic, when I finally got back to work again, I was instantly drawn to writing my book instead of working on my course.
I talked it over with my husband, and it just felt so right. It felt like writing a book was exactly the right thing to be doing right now and I didn't feel any resistance to it at all, I felt really excited about it.
How I Outlined My Book
I started off the process of writing my book by creating an outline from the massive notes document I had created. I wrote headings that seemed like they fitted, and moved similar things to be near to each other.
Then I wrote a logical order for the book and figured out how I could take people on a journey from sharing my own story and the unique concepts that I came up with, to helping people find their own purpose and business ideas, to setting goals, then achieving or manifesting their goals, to creating a specific plan for achieving the goals, and finally making goal achievement a habit.
After I created my book outline I felt so clear on what I had to do in which order, and now it was just a paint by numbers exercise to fill in the gaps.
How I Motivated Myself To Finish My Book
A lot of people ask me how I motivated myself to finish the book so quickly within a month of starting, and I honestly didn't feel like I had to motivate or chivvy myself along at any point.
I feel like when you are living your purpose, in alignment with your core desires, and following insights that are coming through, work becomes play and it feels very easy.
I know you might not believe me when I say this to you because so many people say the opposite of this, but writing this book was one of the easiest things I've ever done.
I felt like it was a true calling for me to write this book, and because of that all the conditions for my success lined up perfectly.
I literally woke up every morning excited to get to work writing, and full of energy and clarity upon waking.
I worked on my book between 6am and 7am before my family got up so I had peace and quiet.
I did set myself a gentle deadline of getting the book finished within one month as I am a massive fan of 30-day goals. I believe that you can achieve so much in 30 days, and you can create new habits by doing the same thing each day for 30 days.
So yes I also wrote my book every day of the week including weekends, and usually I don't work on weekends, but as I wasn't working my normal work day on my business, this didn't really feel like work at all, more like a passion project, or a creative endeavour.
As I was very motivated to finish the book in one month, I think that also helped with my motivation, because I know that I am the kind of person who gets very passionate about a particular project or subject and I want to absorb myself in it completely while I'm in that place of passion, so I can achieve a lot in a short space of time.
But if a project seems to be dragging on, and I lose interest in it, at that point it can really feel like hard work, so I try and get my projects done when I'm the most passionate about them.
Here's another reason I felt really motivated to finish the book – and I'll let you into a little secret. I was so excited to find out how the book would turn out because I feel like it didn't really come from me.
Yes I wrote it, but I really feel like it was a spiritual download. I felt like new insights came so fast and so furious that they couldn't have possibly come from my stored memories as they were totally new content that the world had never seen before.
I feel like all truly new ideas come from our superconscious minds, even if they are a new way to look at information that already exists, it is still a new idea that needs some help from a force greater than us.
So not knowing exactly what was going to be written in the book made me really excited to find out what insights were going to be coming through.
How I Wrote The Book So Quickly
You might be trying to work out how I could write so many words in such a short space of time?
There are several reasons for this.
The first is my typing speed.
I wrote just over 90,000 words in 30 days. That works out on average at 3000 words per day, 3000 words per hour as I only wrote for one hour per day.
So how fast do you have to type to write 3000 words per hour? 50 words per minute (WPM).
A typing professional types between 50 and 80 words per minute.
My natural typing speed is actually 70 words per minute, so 50 words per minute is actually slower than my average speed. The reason for this is because I am not just typing, I am also creating, so I'm playing with words at the same time, and trying to make my sentences flow and sound natural. This also involved thinking time which is why it is slower than my normal typing speed.
Yes, I am a fast typer. I practice touch typing which is typing without looking at the keys. This makes writing so easy because you can see the words in front of you as you type them. I feel like this gives me such a great amount of clarity as I type as it really helps me see the sentences unfold as I type them.
I can also type about the same speed as I am thinking when it comes to communicating my thoughts with others. I've actually done a test where I've timed myself writing out a certain number of words, and then speaking out and having some voice recognition software dictate what I'm saying, and my typing actually comes out faster than my speaking. I feel like when I'm speaking, I can't get my thoughts together fast enough and I stumble over my words, but when I'm writing it just flows to me.
So yes, I'm a natural writer. I am definitely a better writer than I am a speaker.
So how did I get to be so fast at typing?
I actually learned to touch type when I was 16 years old. I downloaded some software to my computer and just spent the summer holidays practicing for about an hour a day every day and pretty soon I was a pro. Then I went on to do about 9 different typing qualifications and got some jobs where I practiced my typing. It was such a great skill to have as a young person as I could always find work when I needed it.
Learning touch typing has been one of the best skills I've ever learned in my life because I have spent most of my working life in front of a computer doing some kind of typing, whether it was doing admin, or creating lesson plans as a teacher, or writing emails, blog posts, sales pages and social media posts.
We all need to type these days, so I would encourage anyone to learn that as a skill. You'll save yourself so much time each day and get so much more done each day.
That's why my blog posts are always so long. The words just pour out of my brain onto the page and I can't seem to write short blog posts.
Another reason that I got the book written so fast was because I was totally in the zone while I was writing the book. It felt like the words were coming from a higher power and I was the vessel that just put them on to the page. I felt like I was floating while I was writing this book.
One more reason I got the book done so quickly is because I never blocked myself from getting it done quickly. I never told myself that this was going to be hard. In fact I did the opposite, I told myself this was going to be fun and easy, and it was.
Also, let's talk about the fact that I wrote a book on goal setting while achieving my goal of writing a book within a month. Of course I used a lot of the principles that I was teaching to get the actual book finished. So naturally I was at an advantage as I knew my own secrets to achieving goals, applied them and they worked a treat.
And the final reason why I wrote this book so quickly was because I was very interested in the subject so I truly enjoyed every moment of it. I love to create, and create things that I'm interested in, so this is where I'm living my bliss when I'm writing.
Why I Waited So Long Before Publishing My Book
It actually took me several months to publish the book after finishing writing it. So why did I wait so long? This is not actually something that I normally do. I normally create something and immediately make it available for others to benefit from. But there were a couple of reasons why I waited with this book.
Because I felt like it was a spiritual download and a lot of the information felt so new to me, I was so excited to digest the book, and actually start to apply the principles of the book in my own life. I felt like someone had just gifted me with a whole body of knowledge, and now I had to put it to the test in other areas of my business.
So I went through the steps in the book again and applied the principles in my own life and put them to the test.
The next thing I did was to set a new exciting goal to double my revenue in one of my passive businesses that I was no longer working on. This particular business had been stuck at a particular revenue for years and I felt like I had a major blockage. So I set a goal to double my revenue the very next month.
I applied all of the principles within my book, did everything as I had written and guess what? It worked. I doubled my revenue without doing any extra work. It was truly awe inspiring.
So I knew the book worked, and I started sharing the principles with other people who also put them to the test and it worked for them too. All of the manifestation techniques that I use for goal achievement that I share in the book have all been backed by science too, so they have been proven to work time and time again.
I have put my own unique twist on all of the concepts in the book to make the principles applicable for business owners.
I wanted to give myself time to adopt and absorb all of my new principles before releasing them into the world. I just had a feeling this book was going to absolutely soar to great heights, and I wanted to be mentally ready to help and support people as they came through my doors.
I have continued to apply my STAMP Framework to all of the goals that I've set in my new business since writing the book, and I've been blown away every single month as to how much I have achieved. It is working like absolute magic.
The second reason I waited so long before releasing my book is because I wanted to wait until January as I feel like this is a natural time of year for people to be setting goals, so it just makes a lot of sense to do it then.
7 Tips For Writing A Book In A Month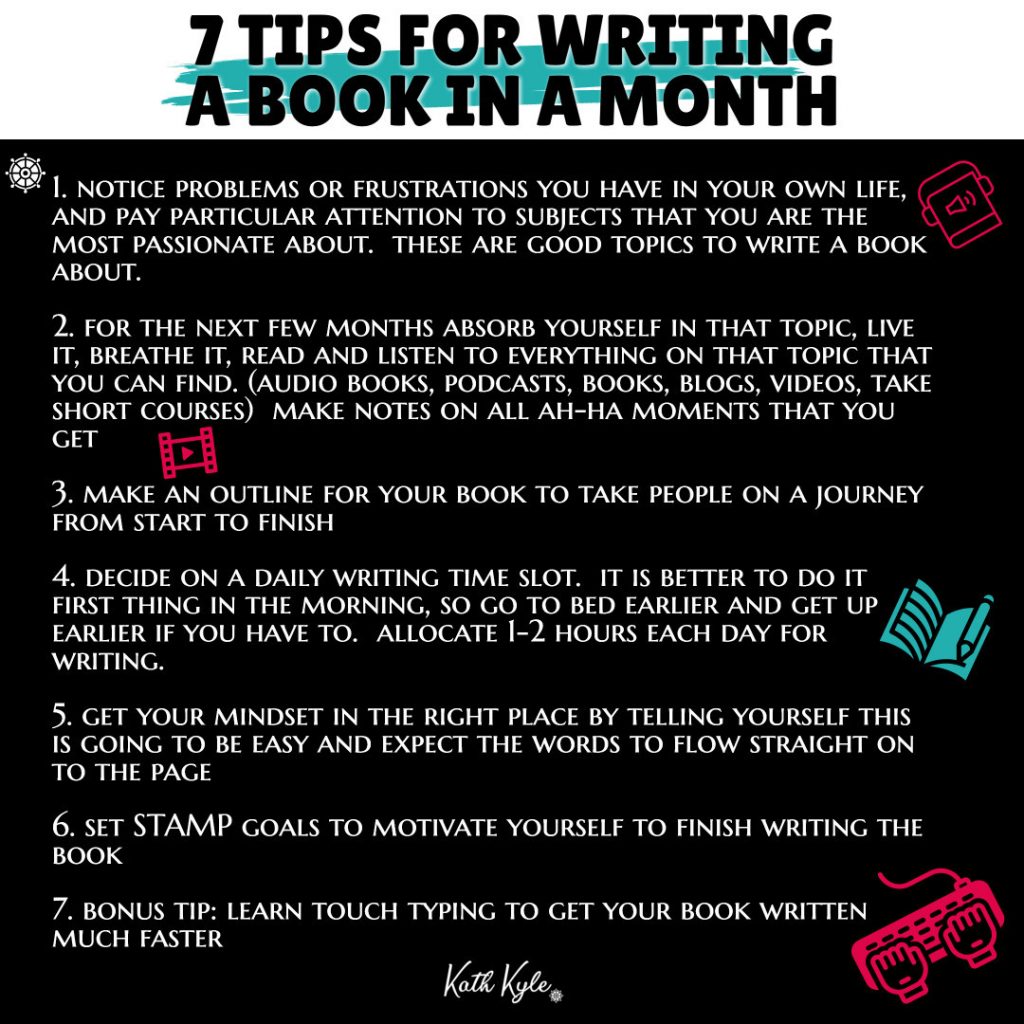 Notice problems or frustrations you have in your own life, and pay particular attention to subjects that you are the most passionate about. These are good topics to write a book about.
For the next few months absorb yourself in that topic, live it, breathe it, read and listen to everything on that topic that you can find. (Audiobooks, podcasts, books, blogs, videos, take short courses) Make notes on all ah-ha moments that you get
Make an outline for your book to take people on a journey from start to finish
Decide on a daily writing time slot. It is better to do it first thing in the morning, so go to bed earlier and get up earlier if you have to. Allocate 1-2 hours each day for writing.
Get your mindset in the right place by telling yourself this is going to be easy and expect the words to flow straight on to the page
Set STAMP Goals to motivate yourself to finish writing the book
Bonus tip: Learn touch typing to get your book written much faster
Next Steps
Now that you have learned how to write a book in a month, you might be wondering how you can get hold of my STAMP Goals book so you can use the same techniques to either write your own book in a particular time frame or achieve another project that you've been wanting to do for a long time in your business.
To get hold of my book you can either search for STAMP Goals book by Kath Kyle on Amazon, or you can go to KathKyle.com/STAMPGoals to read more about it, the fabulous bonuses that I'm giving to anyone who purchases my book, and get the link to both my kindle and paperback books on Amazon.
Now that you've figured out how to write your own book within a month, you might be wanting to learn more about what STAMP Goals actually are and how to use them within your business.
This is what I'm going to be sharing next time so make sure you subscribe to my podcast and my YouTube channel and follow me on Instagram so you don't miss that.
While you're waiting for your copy of STAMP Goals book to arrive, you can start taking practical action in your business today.
Watch my FREE Business Goal Setting Workshop For Fast Results where I show you exactly how to set 3 essential goals that will get you results within one month. Boost your confidence, feel like a winner, and attract more success to you by achieving your goals every time.
This free workshop and associated workbook is part of my book bonus bundle for STAMP Goals, and I'm only making this workshop and workbook free for a limited time, so grab that while it is still available.
Click here to take my FREE Business Goal Setting Workshop For Fast Results and get my FREE workbook.
You are going to be so glad you did.
Now it's your turn to go and put your STAMP on the world.
Conclusion
Goal Setting is a massive passion of mine, and I have many more posts and videos to help you reach your goals so stick around and see what else I can help you with by checking out the links below.
TAKE YOUR MANIFESTATION TO THE NEXT LEVEL
Products
✔️
MANIFEST YOUR PERFECT DAY COURSE
: Manifest the life of your dreams and live your perfect day every single day.
Click here for access.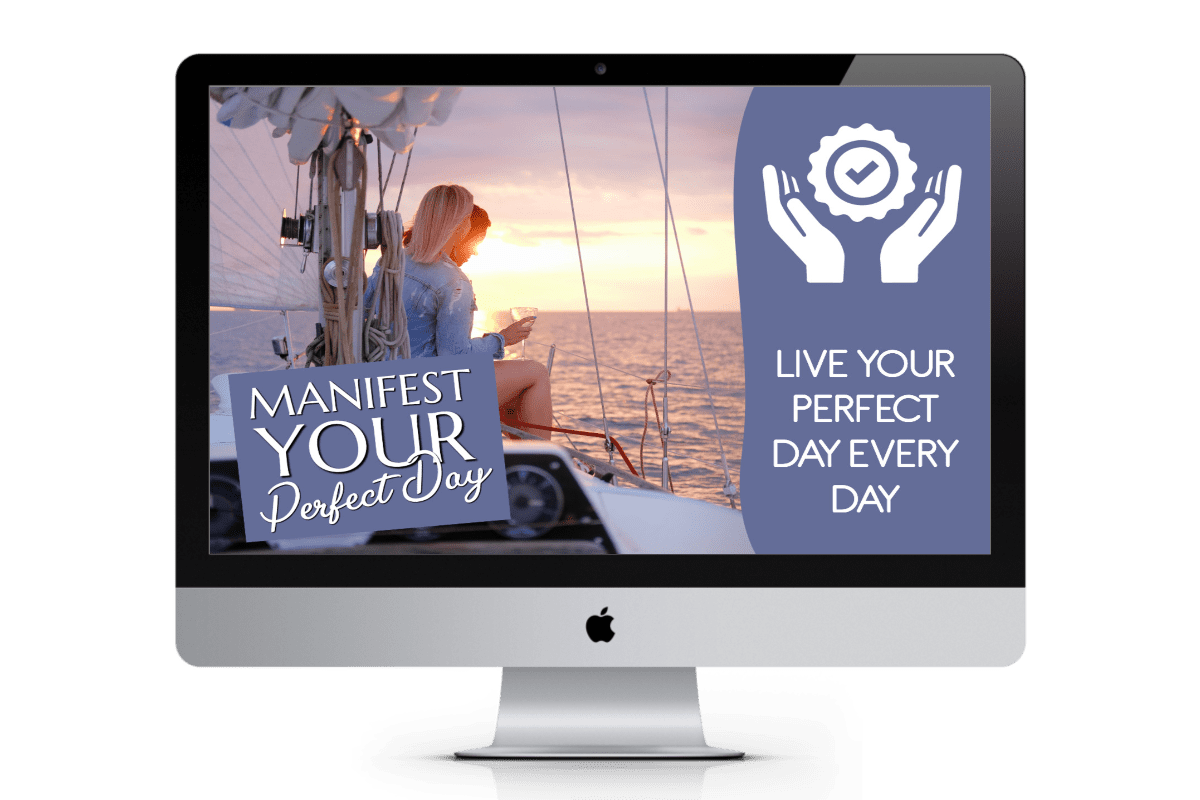 ✔️
BUSINESS MANIFESTATION CLUB
: Manifest a MASSIVE, engaged, and positive FOLLOWING, and MANIFEST the MONEY you desire using never-seen-before manifestation techniques that will transform your results in both your work and your life as a whole.
Get a FREE 7 day trial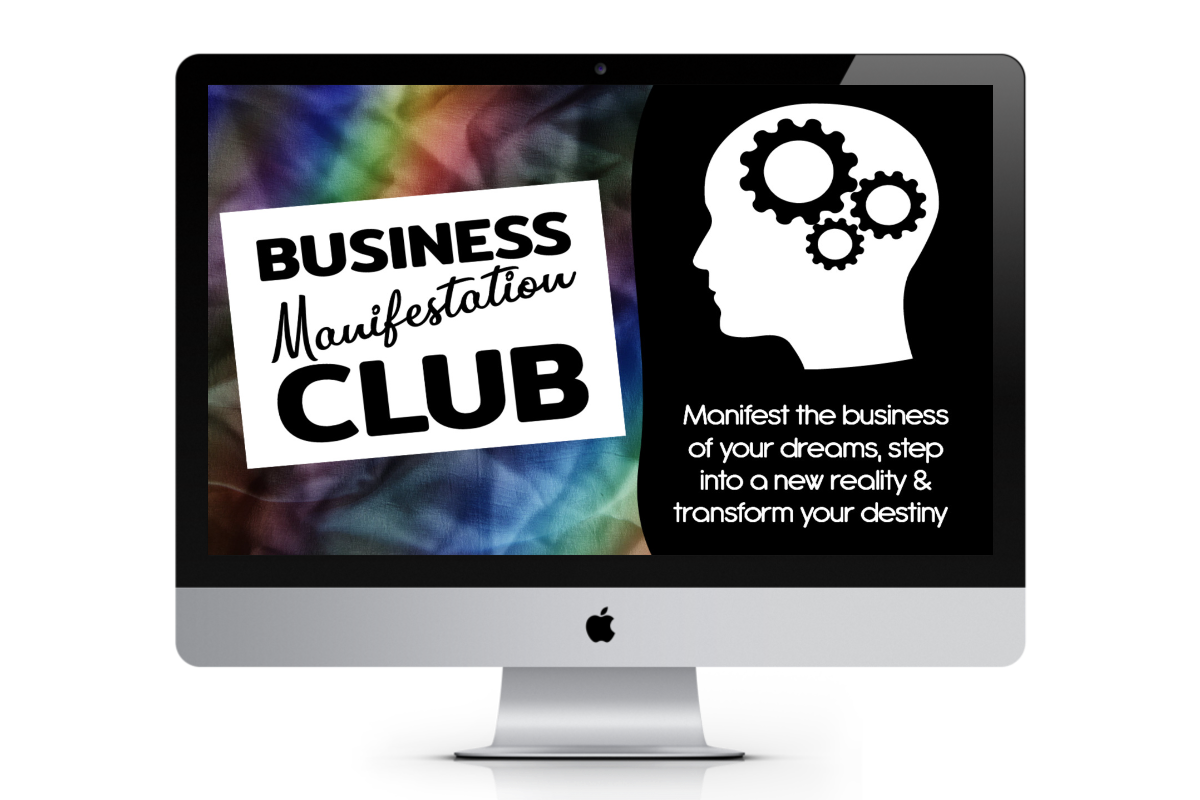 ✔️
DREAM BUSINESS MASTERY
: Get access to ALL of my current and future products. This is my entire system to take you from your current reality to business mastery.
Learn more by clicking here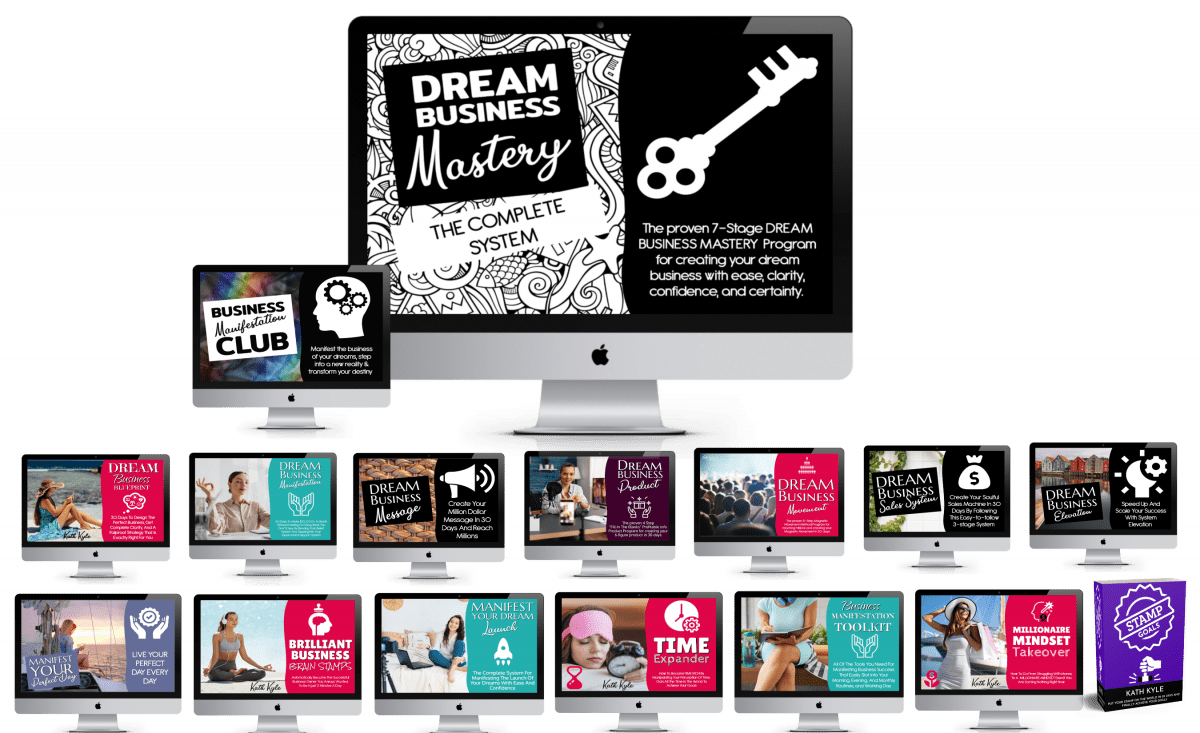 ✔️
STAMP GOALS BOOK
: Put Your STAMP On The World In 30 Days And Finally Achieve Your Goals.
Grab your copy by clicking here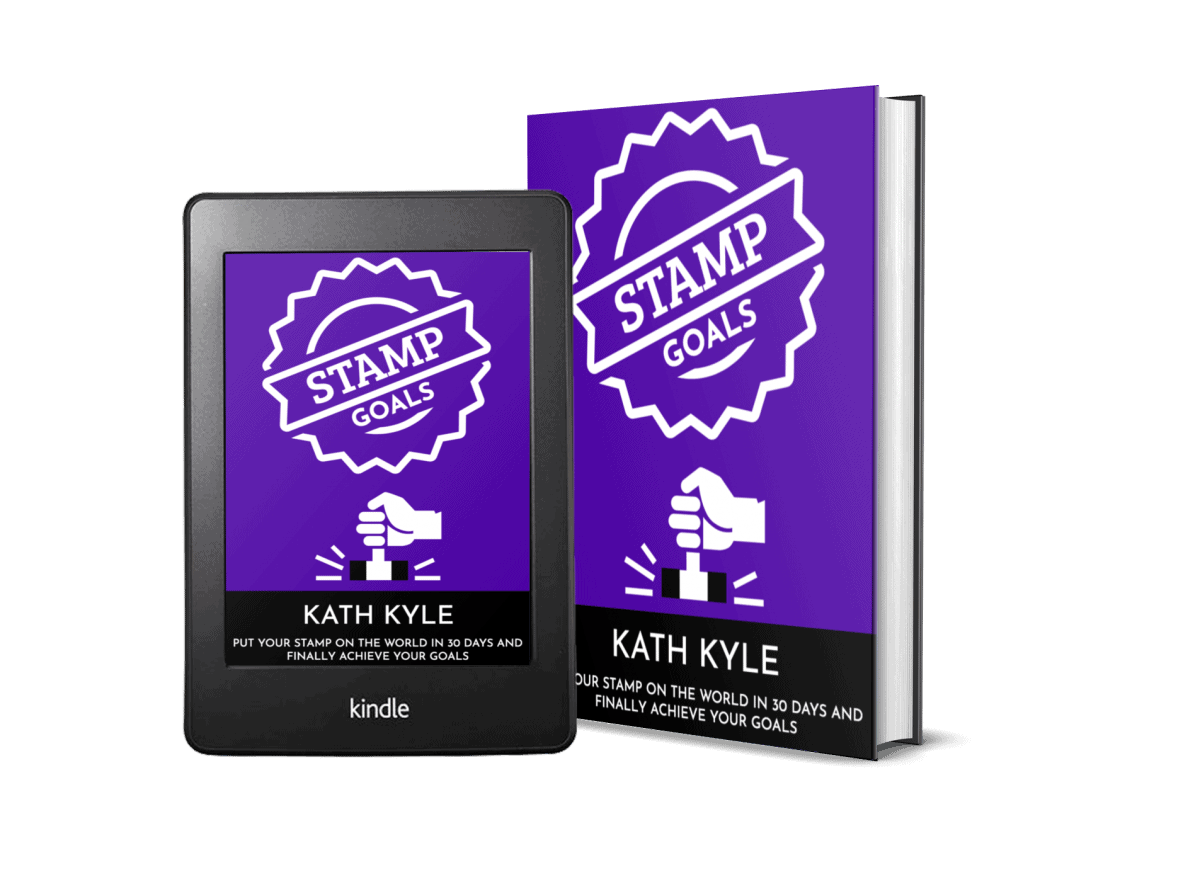 ✔️
ALL PRODUCTS
:
See all of my products and courses by clicking here.
Free Gifts
✔️
MANIFESTING WITH REVERSE MEMORIES GUIDE
: Creating Reverse Memories Is The Best Way To Guarantee Your Desires Will Manifest In Reality.
Click here for FREE access.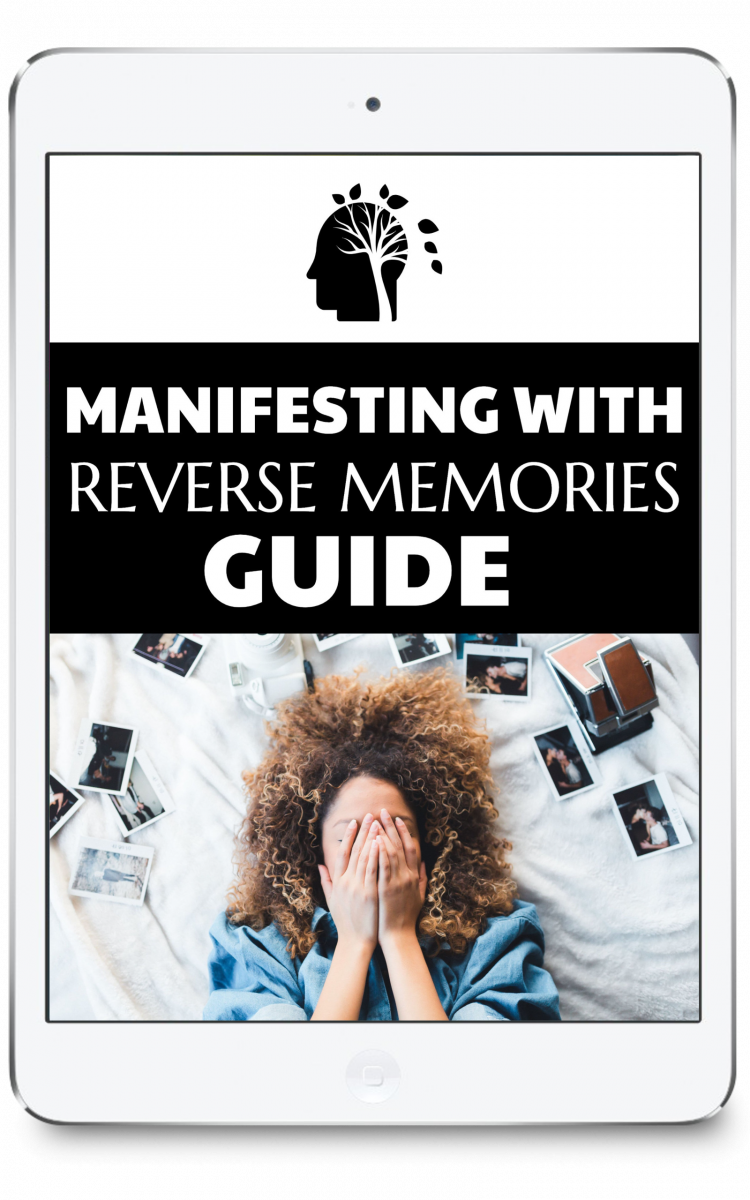 ✔️
10 MINUTE MANIFESTATION MEDITATION
: This powerful 10 minute manifestation meditation will reprogram your subconscious mind and is guaranteed to bring your manifestation into your physical reality.
Click here for FREE access.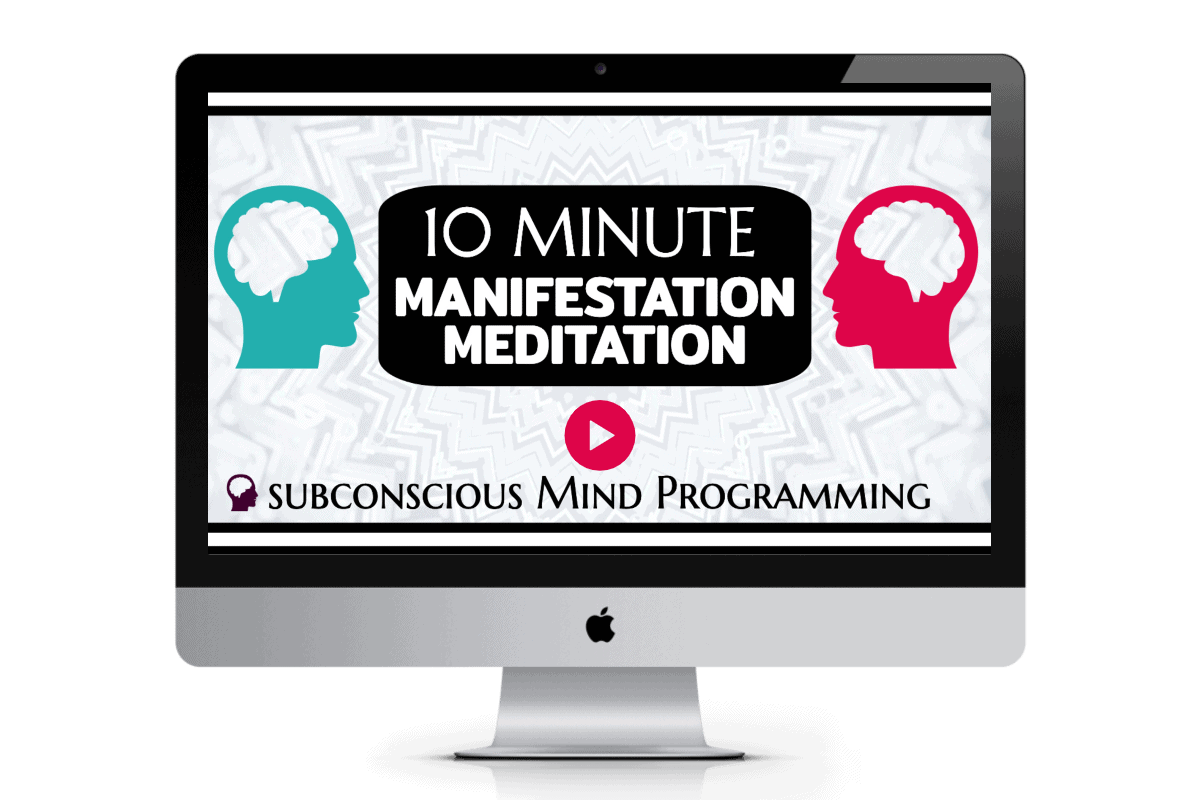 ✔️
MANIFESTATION MILESTONES BOARD PACK
: MANIFEST FAME, FORTUNE, and FOLLOWERS by creating a vision board and achievement board to manifest business milestones.
Click here for FREE access.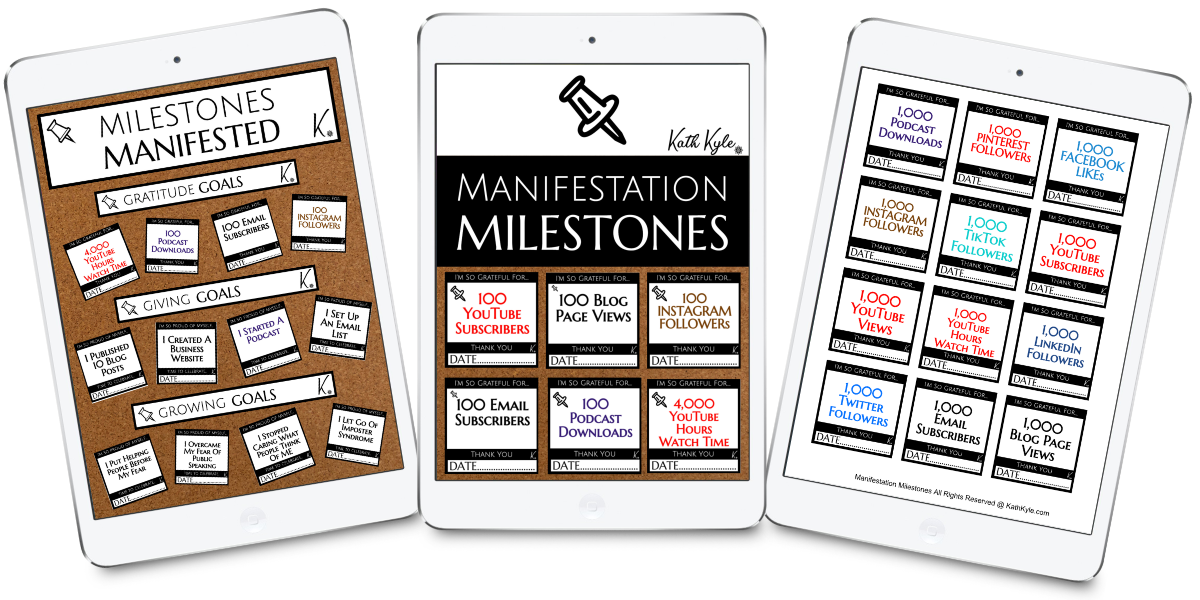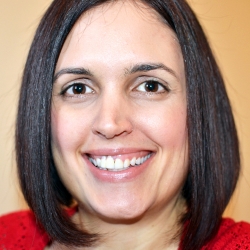 Latest posts by Kath Kyle
(see all)
Please follow and like my content: