Here's exactly how to trust the universe, to truly know that the law of attraction is always working to help you manifest your deepest desires.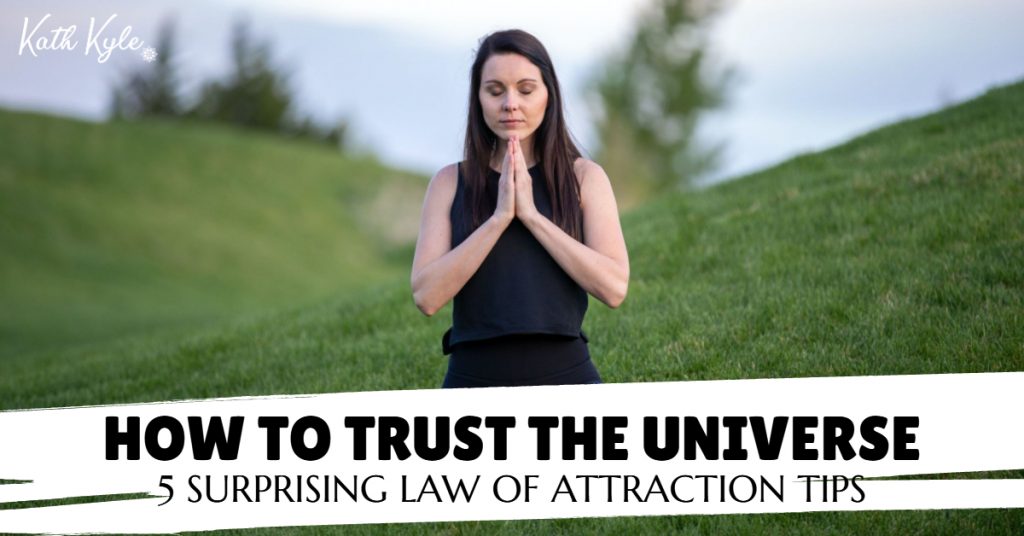 For a long time I really thought I was trusting in the universe, but it turns out I still had to work on growing my trust muscle before my desires actually started to manifest.
I do believe that learning to trust in the universe is something we will always need to keep working on. But I do believe that the more we work on it, the deeper our trust will get, and the more we will be able to manifest as a result.
Today I'm going to share my insights and major mindset shifts with you as I went through my own manifestation challenges.
I have 5 surprising law of attraction tips to help you increase your trust in the universe, and I hope these are as powerful for you as they were for me.
You can either read this post below or listen to the audio version. Click the button below to listen to my podcast episode and click here to subscribe to my podcast.
You can also watch a summary of this post in the video below if you just want the highlights. Click here to subscribe to my Youtube channel.
I have now turned this series into a FREE Manifest Business Success Challenge. During each day of the challenge we will go deeper into each step of the steps to manifestation.
If you haven't already joined the challenge, sign up for the complete videos, daily email reminders, and workbooks by clicking the link below.
Join The FREE Manifest Business Success Challenge.
In this challenge I will take you through the 10 steps of manifestation and how they can be applied to business.
Today we are focusing on Day 7 – How To Trust The Universe: 5 SURPRISING Law Of Attraction Tips
10 Steps Of Manifesting Business Success
Here is a summary of the 10 steps:
To get all 10 steps, join The FREE Manifest Business Success Challenge.
Today You Will
Understand how to co-create with the universe
Discover how to increase your trust in the universe
Realize how to manifest all of your desires by completely trusting the universe
My Name is Kath Kyle.
I Help Content Creators And Changemakers Manifest Business Success Through Spirituality, Self-belief, And Strategy
I Help You Master Your Marketing, Manifestation, And Money Mindset
Let me ask you a question…
Are You…
Not seeing any manifestation results yet?
Struggling to trust that the universe will deliver for you?
Let me know what you are struggling with by leaving a comment on my blog, or send me a DM on Instagram.
Let's change your struggles into solutions now…
Do You Want To…
Get so confident in your manifestations that you are able to fully trust the universe?
See your manifestations happen more quickly by being more trusting
How I Learned To Trust The Universe
I remember when I first started my Kath Kyle brand and I created my first product, Millionaire Mindset Takeover. This is a mini-course that helps you think like a millionaire, and it is actually one of the bonuses that you get when you buy Dream Business Blueprint.
So I'd created this course, I'd set up a membership area, I'd written and created a sales page, I'd created marketing images, and set up a free event to promote my product.
At the time I didn't have any real following on social media, I had about 200 visitors reading my blog posts per day, and I didn't think my audience was big enough to make many sales in an organic way, so I started running ads at a very small amount, about £1, just over $1 a day.
At the time my faith was actually in a really good place.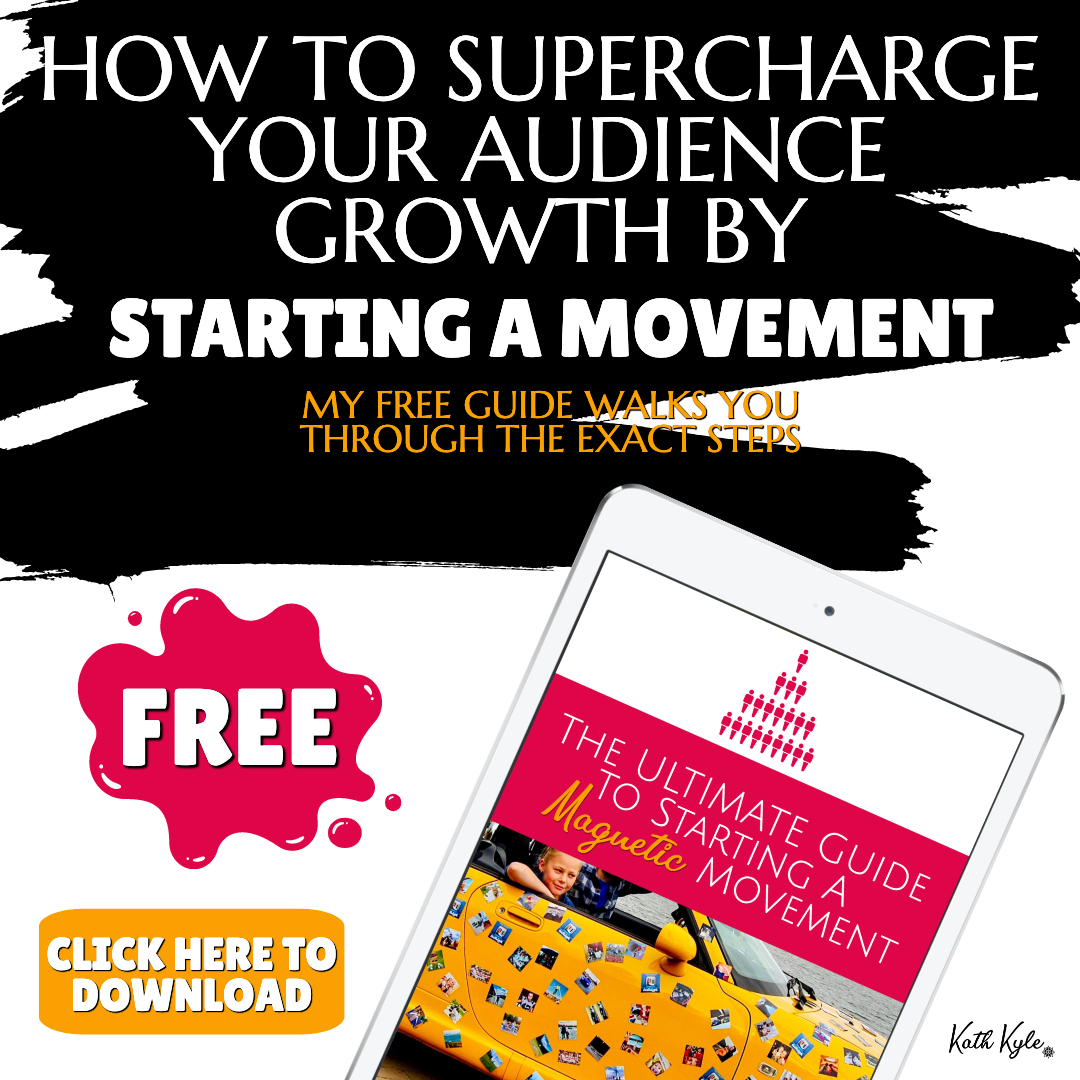 I had just doubled my income on my passive income business by doing no extra work on those businesses, and I really felt like I was on fire. I thought I was a manifesting queen and I could manifest anything I put my mind to.
I was inspired by some other manifestation stories, from people who said that they just put out one Facebook post and it went viral and all of their sales came from that one post.
I had total faith that the same would happen to me.
So I set my launch deadlines for 2 weeks later, and I kept my faith high.
During those two weeks, nothing happened.
And not a single person turned up to my free event.
Even at the last minute, I knew I just had to trust the universe, and that things often happened at the last minute with launches and I couldn't lose faith otherwise I definitely wouldn't manifest what I wanted.
I kept on believing and trusting that the universe had my back and because my trust was so strong, I knew I'd get the thousands of dollars in revenue that I set as a goal for this launch.
After the date of the launch, I logged in to my payment system, fully expecting to see a rush of last minute customers.
I was so excited…
And guess what I saw?
Nothing.
Absolutely nothing.
I hadn't made a single penny from this launch, and still to this day I haven't yet sold a single one of these courses on its own.
I was kind of disappointed, and a bit confused.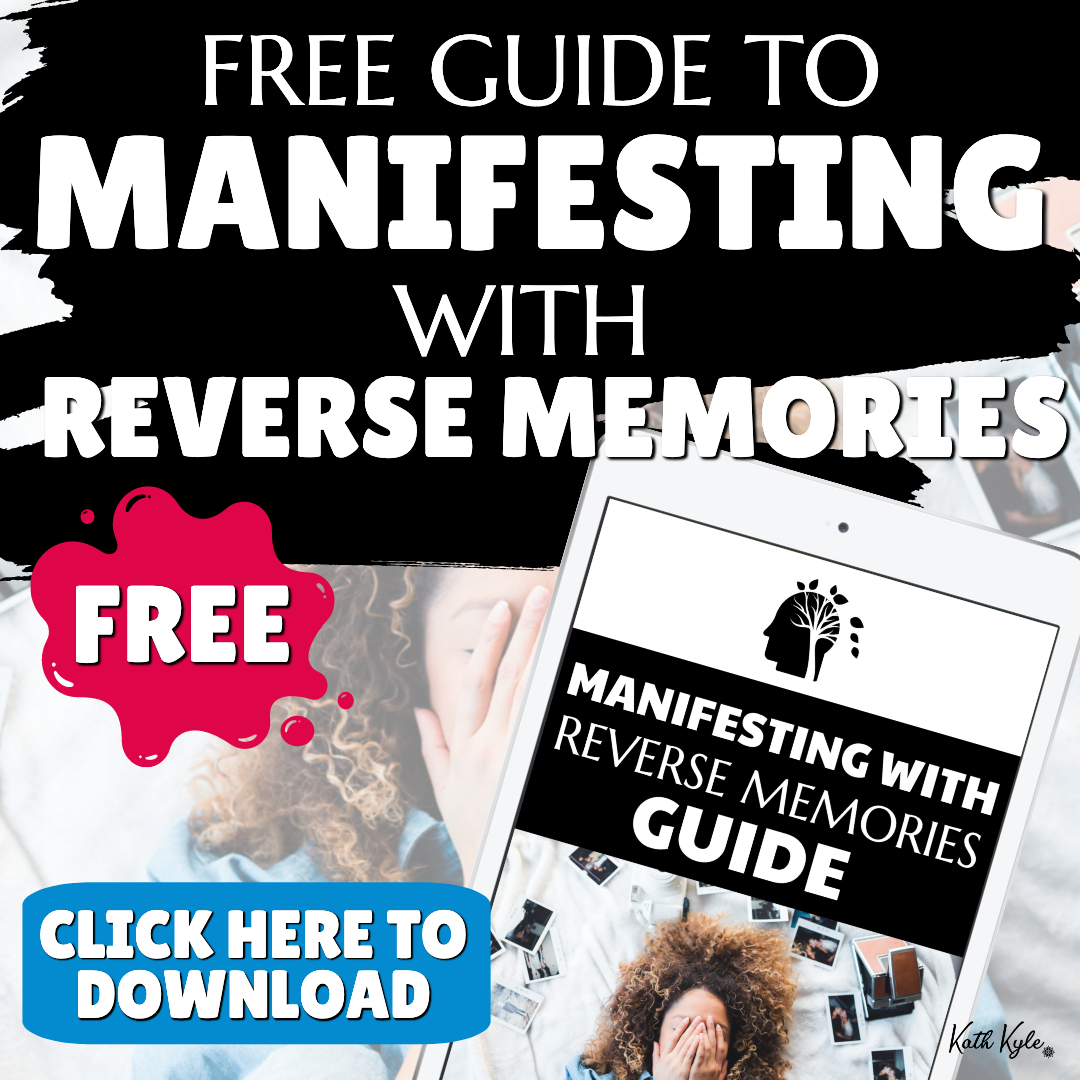 I managed to manifest a big increase in my passive businesses, but couldn't manifest a single sale on a product I'd been working so hard on.
What gives?
Why didn't I manifest a single sale during this launch?
Universe? What's going on?
After this launch failure, I then went on to repeat this process 4 more times with 4 new products, and each time the exact same thing happened again.
I put my all into the product and promotion and still I received no sales and no interest whatsoever.
And that's not the only thing that got me disappointed.
I knew how powerful testimonials were for selling products, but I didn't have any as these were brand new products.
So what I decided to do was to put out an Instagram post to my audience of about 80 people, and see if anyone wanted to test my product for free.
I did posts asking for beta testers, I ran giveaways, and I even said everyone who responds to this post gets free access to my product.
I fully expected these posts to go completely viral, as who wouldn't jump at the chance to get my products for free?
And do you know what happened?
Absolutely nothing!
Nobody at all commented, and my posts did not go viral in the slightest.
At this point I was kinda thinking, "what gives?"
"I can't even GIVE my products away let alone sell them."
This had been going on for a couple of months now and I've got to admit, my trust was going downhill at a rapid rate.
I really didn't know what to do.
I knew in my heart that businesses can take a while to build up, but I thought seeing as I had all of this experience and knowledge that could really help people, and I felt like I was really good at marketing, so why wouldn't I get at least SOME results?
I just expected that with my business experience, combined with my manifestation and levels of trust, that I was guaranteed to make a lot of sales during my first launches.
But it didn't happen.
Nothing happened.
This was basically the turning point for my business.
At this point, I really did feel like giving up.
But when I thought of giving up, I thought, well what on earth would I do if I didn't do this? This is my purpose. This is my calling. This is my passion.
I can't give up. I just can't.
I just HAVE to make this work.
I decided at this point to continue to trust the universe because what choice did I have if I truly believed that this is my destiny?
I took some time to reflect on my state of mind during these launches. I asked God to show me what the problem was, and what to do about it, and I had to admit some things to myself that was very interesting and very helpful:
I was feeling a little bit desperate to get results. I thought I wouldn't be a good role model if I didn't get success straight away in my business. How could I help people if I didn't have immediate success? What I had to realize was that it actually helped people a lot more for me to understand how they were feeling when they had no audience and no results despite all their hard work. So believe me, I found this out, and now I'm grateful for this time of feeling like nothing was working for me because now I can help you to keep going when things don't seem to be working.
My lack of testimonials was a bigger issue than I first thought. Yes, it is true that results show that if you have testimonials, you are likely to sell more products, but there is something greater at play here too. I realized that if I didn't have any testimonials, it meant that nobody had gone through my products and shared their success with ME. So if I didn't know that my products helped people, then how could I be so sure that it was a good thing for other people to buy my products at all. If I wasn't 100% sure that my products could help people, surely that was felt in my energy.
I had my attention split between too many different products. I needed to choose one product that I thought could get the best results for people and put all of my energy behind that until it succeeded. I had to focus on my current passion and current desires.
I was trying to force things based on my own timings and deadlines. I wasn't letting success come to me at the right time, in the right way.
I wasn't actually trusting the universe at all. I was just trying to force my own agenda by pushing on with my product sales, and not listening to any intuition.
All of these were lightbulb moments for me, and they led me to making a few changes:
I had to humble myself and realize that I was going to share my true story with my audience and that would include all of my ups and my downs. I would share my honest journey and that would include all of the times I thought my manifestations had failed. Because life isn't perfect for anyone. Life is full of excitement, and if all you had was constant success without any challenges, that would get a bit dull after a while.
I decided to focus all of my attention on my signature course, Dream Business Blueprint as I knew it was life changing for people. So I focused on finishing this product and then marketing it. I stopped focusing on my smaller products, and put all of my attention on this one product.
I dedicated a lot of time to find people who wanted to test Dream Business Blueprint. I put as much effort into finding testers as I would into finding customers. It paid off, and they gave me some fantastic testimonials, and my confidence around my course's ability to get results for people went sky high.
I decided to focus on selling Dream Business Blueprint in an evergreen way for a while, which means no launch deadlines and no stress around having to make particular revenue by a specific date.
I spent way more time journaling and listening to my own intuition.
After I made those changes, I felt like a completely different person. I totally stopped feeling desperate. I totally accepted that my success is inevitable, that I'm always successful in business, and to enjoy the process, even if that meant I had a period of time with no sales at the start of my business.
I've never felt more relaxed and I was able to fully trust the universe to bring me my desired outcomes at the right time, in the right way.
Since I shifted my mindset and truly started trusting the universe, my sales have gradually started to trickle in and I'm so grateful for this manifestation and for these learning lessons.
I have no doubt that this is the start of something really big, and I'm excited, yet calm and trusting about the future.
How To Trust The Universe: 5 SURPRISING Law Of Attraction Tips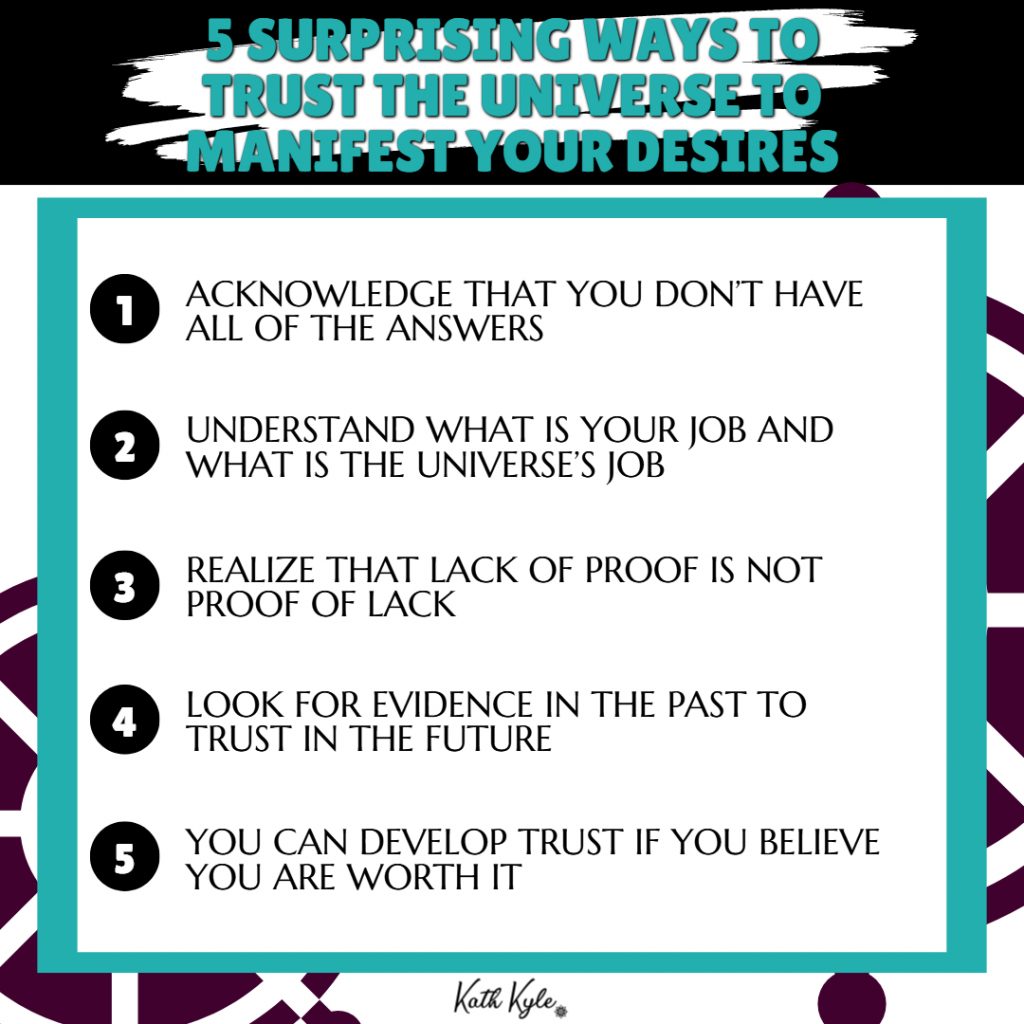 1. Acknowledge That You Don't Have All Of The Answers
You don't know what is going to happen in the future and therefore don't know what is in your best interests right now.
As a human, we have limitations. We only see time in a linear fashion. Whereas the universe sees everything that has ever happened and will ever happen all at once.
So the universe knows what is going to happen because it has already happened.
But we don't know that.
So how can we know what we need if we don't know what the future holds?
That's why we need to humble ourselves and trust that the universe has all of the answers.
2. Understand What Is Your Job And What Is The Universe's Job
To be able to manifest our desired outcomes, we have to work in co-creation with the universe.
The universe has the knowledge and the power to make miracles happen.
We have the power to decide what we want, control our thoughts, and take action.
The universe knows the when and the how
We usually know the what and the why.
So we need to bring these powers together to create something magical.
Your job is to get clear about what you want, trust that you will get what you want, listen for any guidance, and act on intuition.
The universe's job is to guide you to the right path that lines up with your belief system, and to re-arrange time and space to manifest your beliefs at the right time.
3. Realize That Lack Of Proof Is Not Proof Of Lack
It is worth noting that when we are trying to manifest something, it is usually something that we've never experienced before.
We want a NEW business, NEW customers, NEW sales, NEW income, NEW followers etc.
So therefore, if we are trying to manifest something new, it has to look different to the OLD.
Therefore, there is a gap in time and space from when you are still experiencing your CURRENT results, and have not yet manifested your NEW desires results.
That gap could be called no results, or no manifestation, or failure.
What you have to realize is that there will ALWAYS be a GAP between the OLD and the NEW. The GAP HAS to be there.
That GAP where you have yet to manifest your desired outcomes is NOT PROOF that you will NEVER manifest your desired outcomes.
Lack of Proof Is Not Proof Of Lack
There is a big danger in focusing on what you don't have.
When you focus on what you don't have, and you start to feel negativity rising within you, this can prevent your NEW desired outcomes from ever surfacing.
If you start to see your current outcomes as proof of your future outcomes, then you'll get more of this same kind of "proof".
So the best thing to do is to accept the current outcomes for what they are, but get excited about what is coming, and never stop believing no matter what.
4. Look For Evidence In The Past To Trust In The Future
It's funny because we humans tend to focus on the negatives in life, and we often see things in a much more negative way than they really are.
And although you don't currently have your desired outcome that you are trying to manifest, that doesn't mean that you have never had anything manifest in the past.
How many things have you previously manifested that you can use as motivation to trust that things you want to actually manifest for you?
Have you ever desired something and got it?
Have you ever had a feeling that something was going to happen and it did?
Did you ever know that someone was going to get in touch with you and then they did?
Did you ever need something to happen by a certain date and it did?
Has the universe delivered the right thing at the right time in the past?
It will do it again if you trust it.
Really draw from your previous experiences that the universe really is trustworthy.
5. You Can Develop Trust If You Believe You Are Worth It
And although we do work on co-creation with the universe, we are a lot more powerful than we give ourselves credit for.
If you believe, like I do that time doesn't really exist when you are outside of the human experience, and everything you desire has already happened, then this is a sign that you can trust that your desires will come true.
We don't always know when and we don't always know how, but we usually know what, and we usually know why.
So if you know what you want and you know why you want it, it's usually a sure bet that your desires will manifest some how, and some time.
What we really get upset about is not knowing IF something is actually going to happen.
But if you are certain, because of your strong desires, that something IS going to happen, you can usually relax about when and how something happens.
If you can relax about when and how something is going to happen, it will really help you to trust in the universe and relax and enjoy the process.
If you are certain in your beliefs (WHY) and your core desires (WHAT), then the universe has no option but to rearrange things on your behalf so that they do actually happen someHOW and someTIME in this lifetime. This is co-creation at its best.
Next Steps
Now that you have learned how to completely trust in the universe, you might be wondering how to learn to listen to intuition and what actions you need to be taking to get the results you want?
This is what I'm going to be sharing next time so make sure you subscribe to my podcast and my YouTube channel and follow me on Instagram so you don't miss that.
Trusting is step 7 in the process of manifestation. You can get all 10 steps in the Manifesting process by signing up for my FREE Manifest Business Success Challenge here if you haven't already.
Join the challenge while it is still free because I am in the process of turning this content into a book.
While you're waiting for the next step in the manifestation process, you can start taking practical action in your business today.
Watch my FREE workshop where I walk you through my complete process of planning the business of your dreams in just 30 days.
This is part of my premium course, Dream Business Blueprint, and I'm only making this workshop free for a limited time because, so grab that while it is still available.
Click here to get my FREE Workshop: How To Plan Your Dream 6-Figure Business In 30 Days.
Until then, go and put your STAMP on the world.
Conclusion
Manifestation is a massive passion of mine, and I have many more posts and videos to help you reach your goals so stick around and see what else I can help you with by checking out the links below.
Related Resources You Will Love
TAKE YOUR MANIFESTATION TO THE NEXT LEVEL
Products
✔️
MANIFEST YOUR PERFECT DAY COURSE
: Manifest the life of your dreams and live your perfect day every single day.
Click here for access.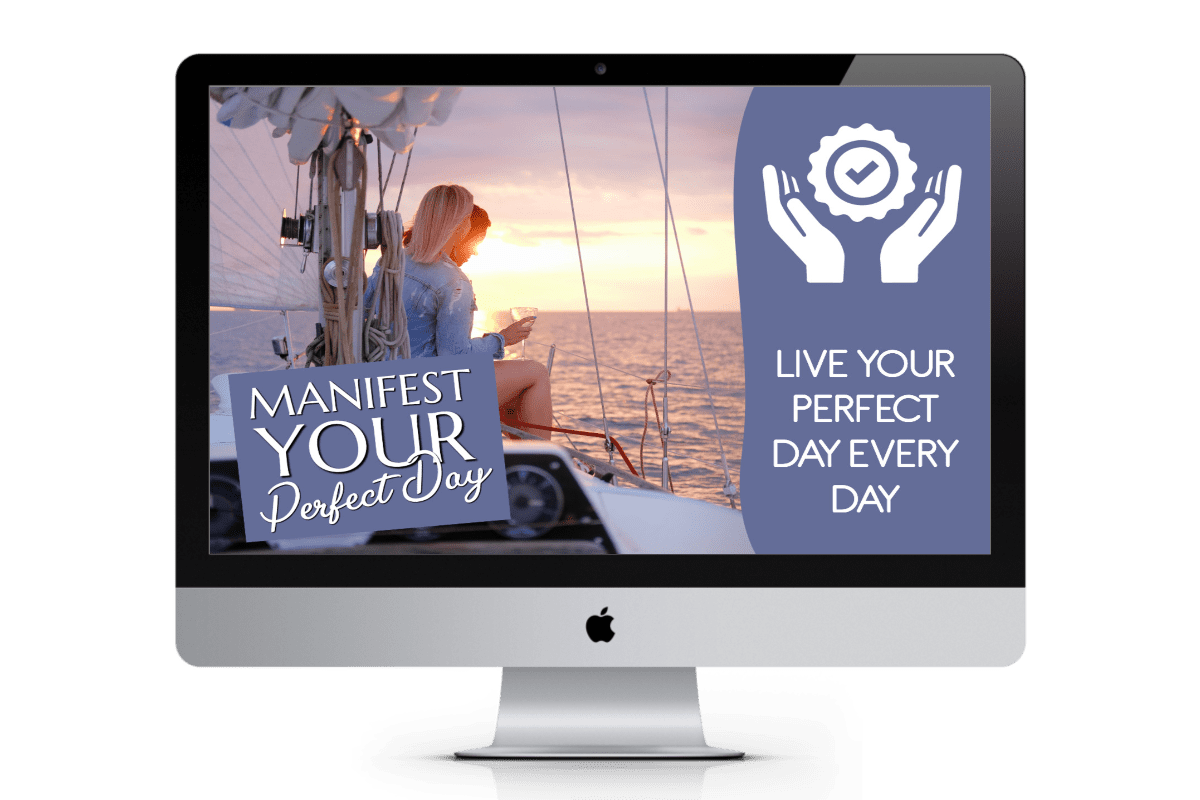 ✔️
BUSINESS MANIFESTATION CLUB
: Manifest a MASSIVE, engaged, and positive FOLLOWING, and MANIFEST the MONEY you desire using never-seen-before manifestation techniques that will transform your results in both your work and your life as a whole.
Get a FREE 7 day trial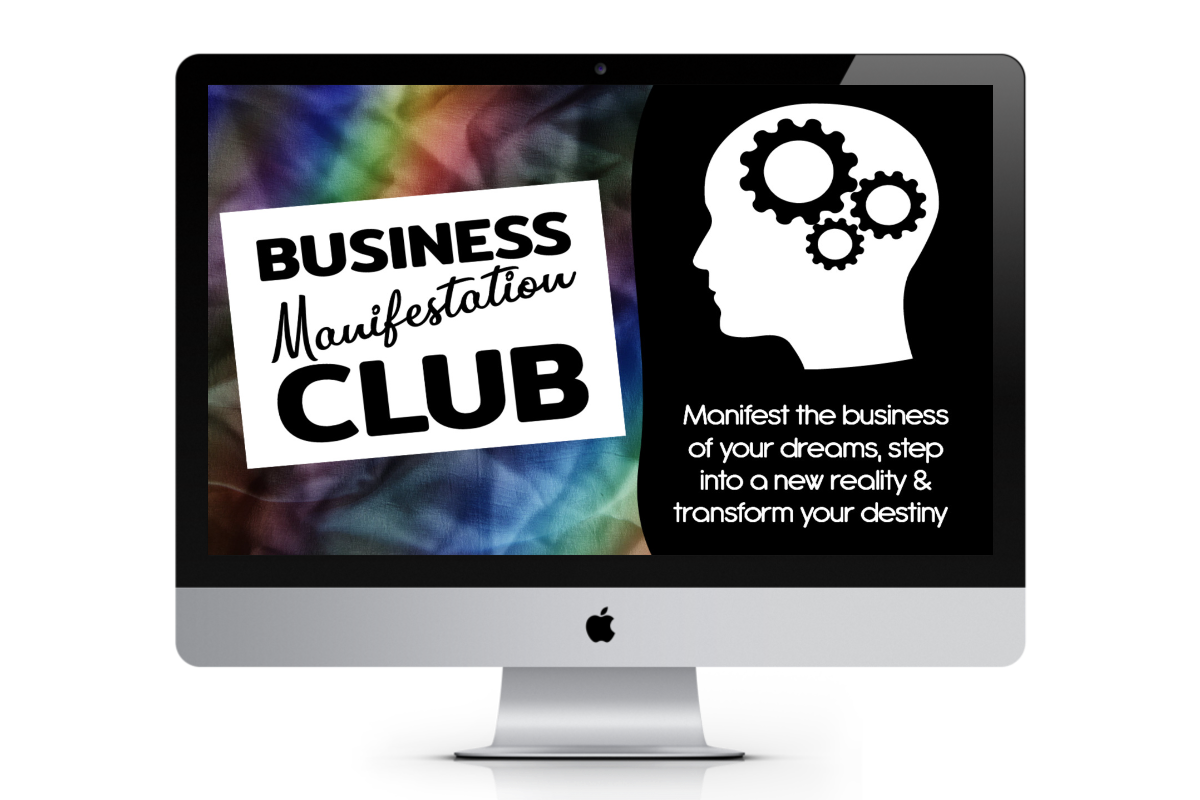 ✔️
DREAM BUSINESS MASTERY
: Get access to ALL of my current and future products. This is my entire system to take you from your current reality to business mastery.
Learn more by clicking here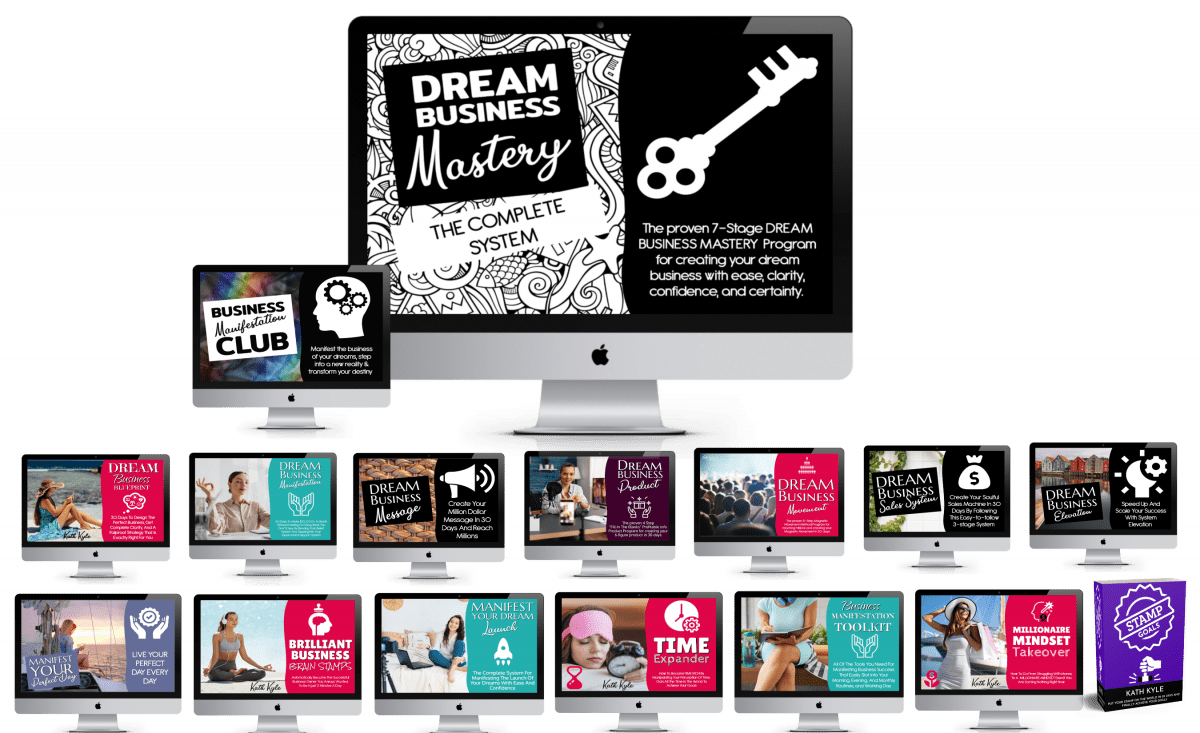 ✔️
STAMP GOALS BOOK
: Put Your STAMP On The World In 30 Days And Finally Achieve Your Goals.
Grab your copy by clicking here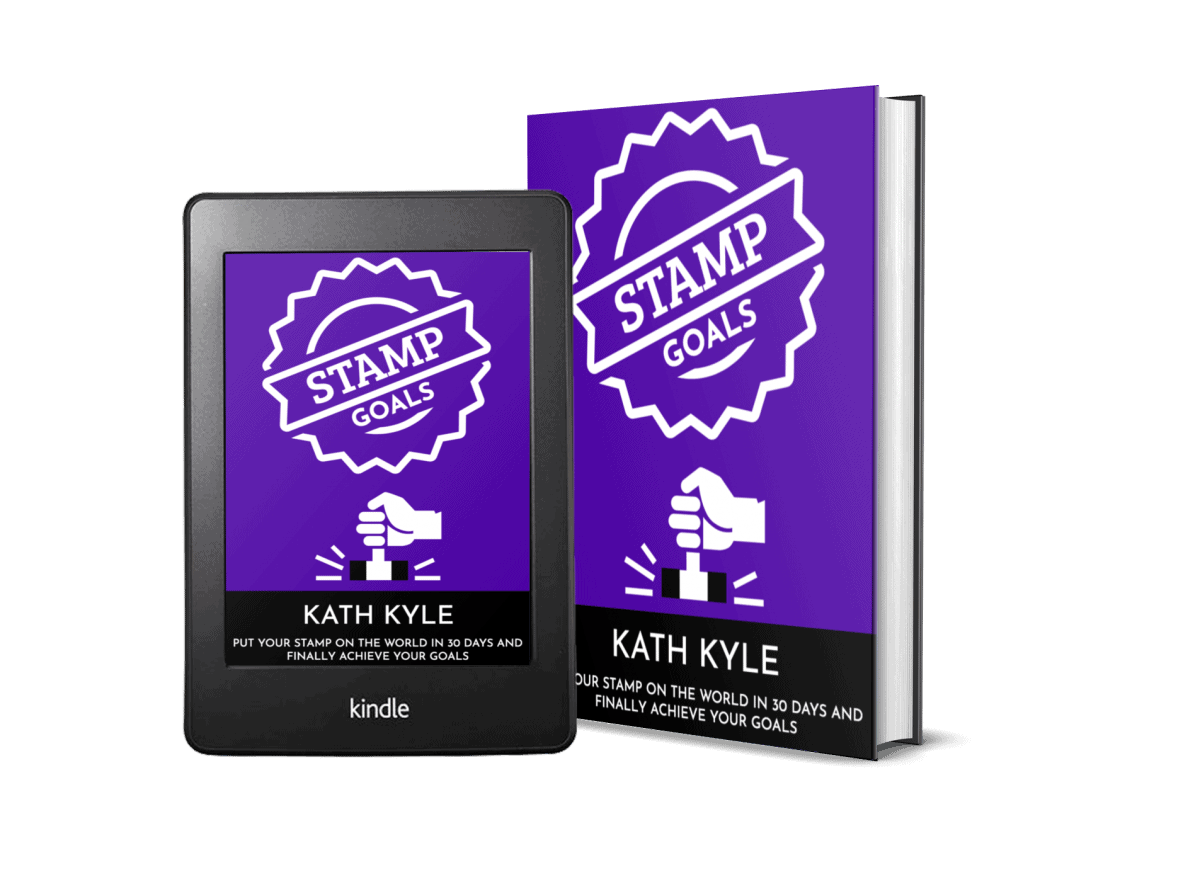 ✔️
ALL PRODUCTS
:
See all of my products and courses by clicking here.
Free Gifts
✔️
MANIFESTING WITH REVERSE MEMORIES GUIDE
: Creating Reverse Memories Is The Best Way To Guarantee Your Desires Will Manifest In Reality.
Click here for FREE access.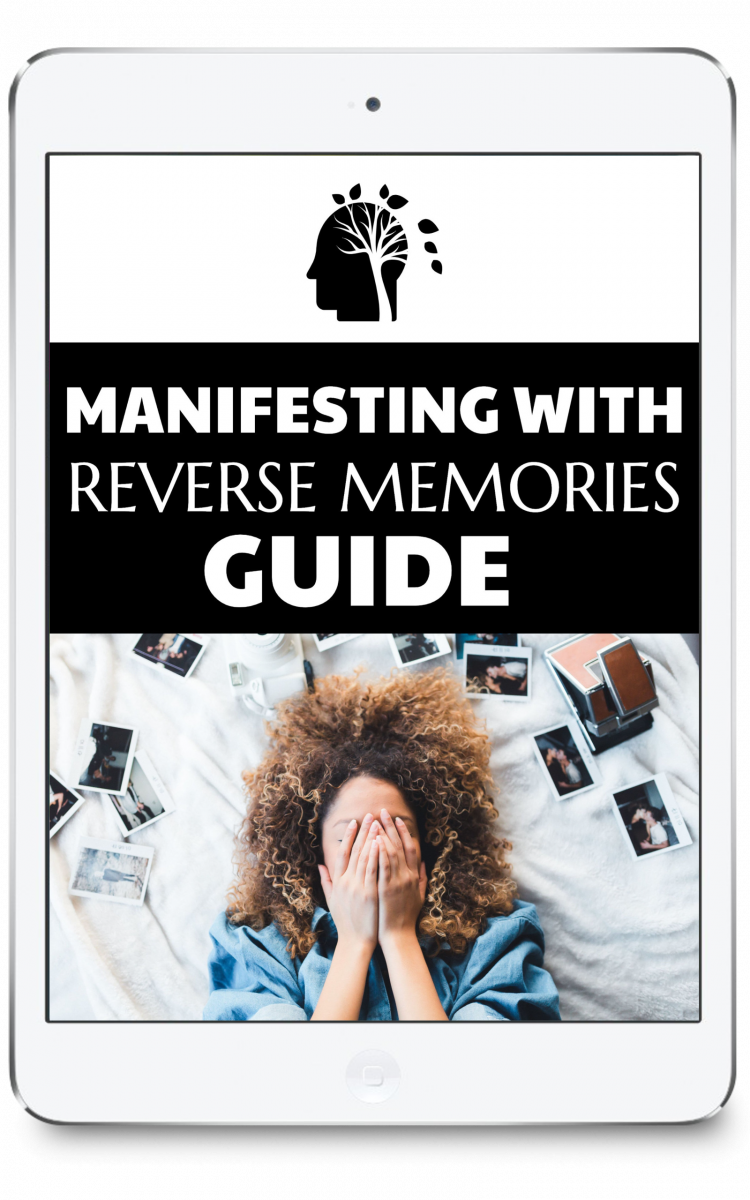 ✔️
10 MINUTE MANIFESTATION MEDITATION
: This powerful 10 minute manifestation meditation will reprogram your subconscious mind and is guaranteed to bring your manifestation into your physical reality.
Click here for FREE access.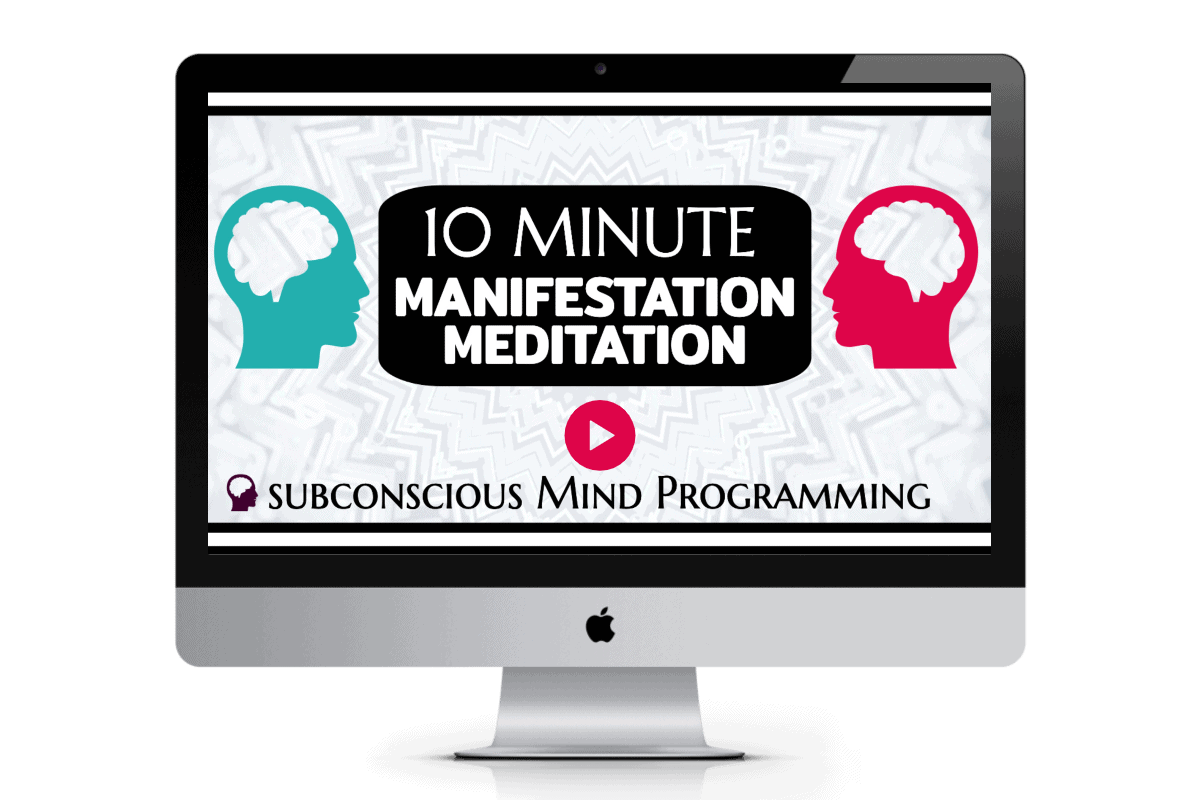 ✔️
MANIFESTATION MILESTONES BOARD PACK
: MANIFEST FAME, FORTUNE, and FOLLOWERS by creating a vision board and achievement board to manifest business milestones.
Click here for FREE access.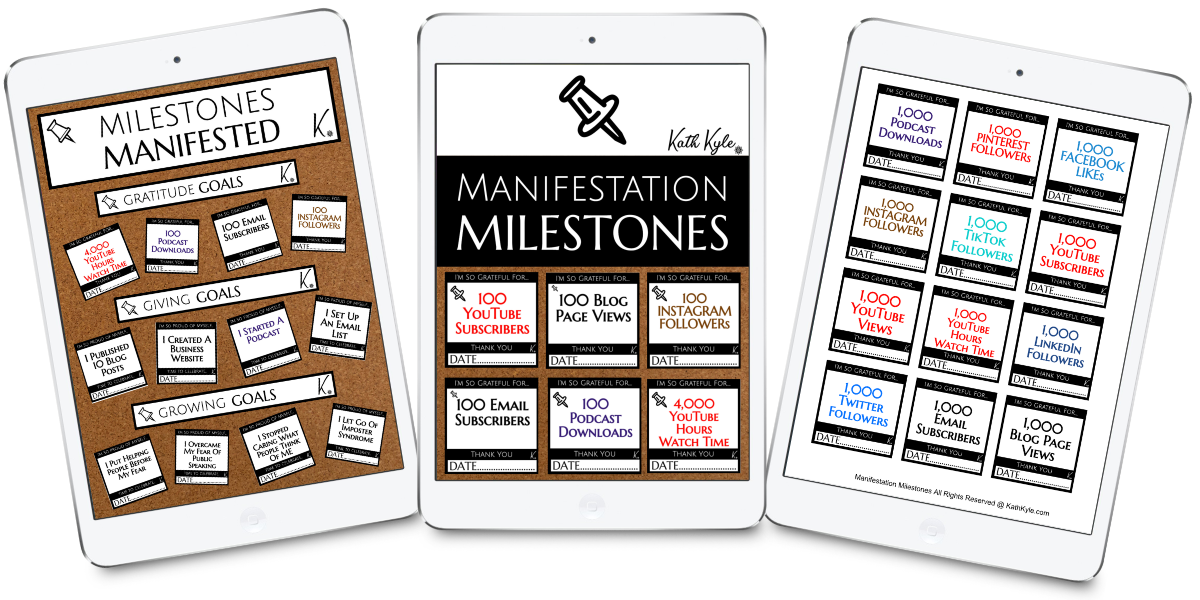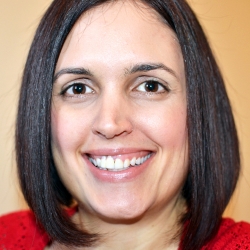 Latest posts by Kath Kyle
(see all)
Please follow and like my content: